Lil Wayne Brings Out Nicki Minaj During His 4th Annual "Lil Weezyana Fest" [Videos]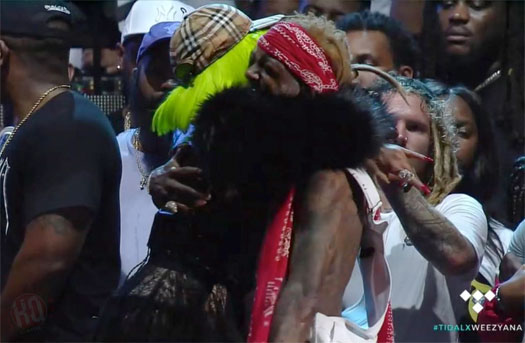 We have previously seen some footage of Birdman making a public apology and Lil Wayne spitting a new freestyle, and now we can see some footage of Wayne bringing Nicki Minaj out during his 2018 "Lil Weezyana Fest".
The Young Money Barbie walked out to her "Barbie Dreams" song before then performing her verse off YG's "Big Bank" single live for everyone in attendance. She also took Weezy's blunt off him while he was sitting down to watch her perform.
You can check out some clips showing all of this from the 4th annual "Lil Weezyana Fest" in New Orleans, Louisiana on August 25th below. How hilarious was it when Tunechi managed to get a quick look at Nicki's behind!
Categories: Latest News, Young Money Ent