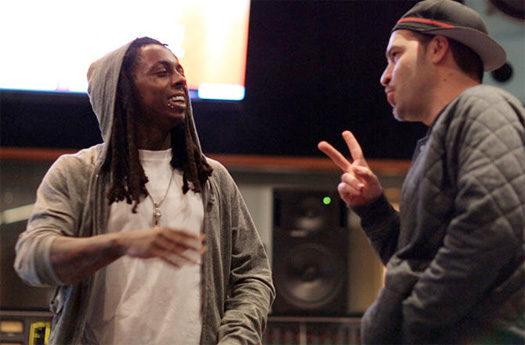 Infamous recently chopped it up wit DJ Booth about his work on Lil Wayne's new album, Tha Carter V, especially the "Mona Lisa" song featuring Kendrick Lamar.
The producer discussed when Tunechi first started working on "Mona Lisa", how they decided to put Kendrick on it, working on the beat and vocals during the 4-year lawsuit, how it feels now that the collaboration is finally out, and more.
Also during their conversation, Infamous revealed that there was 35 seconds taken off of "Mona Lisa", so when they shoot a music video, he thinks those 35 seconds will return. The producer even added if C5 hadn't of come out this year or next year, he would of leaked the track himself, as well as that there is so much more Weezy music on the way!
DJBooth: Starting with the basics, when did you first get the "Mona Lisa" beat to Wayne?
Infamous: The way that the song really started, is we were right in the middle of, towards the end of when Carter V was really supposed to come out [2014] back in the day. Wayne called me, and he was working on a song, and he was like, "Yo, come and get the vocals to this thing that I'm working on. See if you can make a new beat around it." I went and picked up the vocals. Angel [Aponte], who was working for him at the time, I picked up the files from him and me and Angel went up to my studio after. We made a five-minute beat. It wasn't anything special or crazy, some of it is still in the final version. We played it for Wayne, and then that turned into the concept of "Mona Lisa."

He started writing to the beat, and it turned into the story. I heard it and I was like, "Oh, shit, this is crazy." Then he did a second verse and at the time, his engineer was a dude named Omar Loya. Wayne was talking about trying to get a feature on the song. Everybody was kinda like, "Maybe Nas would be crazy because it's a storytelling song." Omar was the one who said, "Kendrick would be cool." Boom. I know Wayne and Kendrick linked up in the studio, and I wasn't invited, which bummed me out.

A couple days later, I heard Kendrick's verse. Wayne played me the whole thing, and it was a whole different ball game. Production-wise, I had to match them. And then that's where the lawsuit happened. Before we even got a chance to touch the record, everything just got put on pause. Years went by of maybe it's coming out, maybe it's not.

When did Kendrick Lamar get on the track?
That's like To Pimp a Butterfly-era Kendrick. He did his verse a while ago.

How different is the beat we hear today from the one you sent over?
Kendrick's entire verse is completely reworked from [the beat] he recorded to. I believe he heard the final version—unless Wayne sent it to him beforehand—I think he heard his verse the way everybody else had, a couple days ago. The main melody of the beat that's playing in the background and the synth sounds, those are from the original beat. We built the new production around that theme. The pianos are live pianos. We replaced the plug-in pianos with real pianos. The amount of work that went into this production is more than I've done for anything [laughs]. To the point where every reverb on the piece was replaced with a plate reverb. Once all the music was recorded, then we recorded to quarter-inch tape, then we recorded it back in. We went through a whole lot of nerd processes to make it sound as amazing as possible.

Were you working on the song following the lawsuit?
There were moments where Angel would fly down every now and then. Throughout the years we would get phone calls like, "Oh, shit, it looks like the album might come out." There's been a few false alarms where we'd revisit the song. It'll go cold, and we'll just stop working on it. We had plenty of time of doing a couple little things and then just leaving it to rest, then listening to it with fresh ears like, "That shit sucks, let's do something different."

So the timing helped you make a better song?
Oh absolutely! [Laughs] And just so you know, there's 35 seconds that was taken off of the song. I think whenever they do the video, I think those 35 seconds are going back in. If anybody was like, "Oh, I wish the song was longer," there you go. It's coming.

How long did you go not knowing if "Mona Lisa" was coming out?
I think right around the time I hit you guys up like, "Let's talk about this song" [summer 2018], I think I was starting to give up a little bit. A song like this—I'm gonna keep it real with you—if it wouldn't have come out this year or even next year, I probably would have leaked it myself. I think that song is too crazy for it to just live on a laptop. I felt the world of hip-hop needed to hear this song. So no matter what, I would've leaked it at some point.

That's funny, we just covered Alex Tumay saying leaks are bad for fans yesterday.
I know what he's saying though because I was part of the whole leak thing with Carter III. There's times where shit gets leaked and it's not finished. Like, I would've been devastated if any of the process throughout finalizing this song, if it would've leaked and the surprise would've been ruined and people would've heard a work in progress. I feel him on that, but at certain points, it's like, if the song is done and for some reason it's the business that's holding people back from listening to it? Put that shit out. Fuck that shit.

Describe to me the moment you knew for certain you were on Tha Carter V.
I'mma keep it real with you: I always know. I talk to Wayne pretty often. I've always been someone they could call to do whatever. Me and Manny [Galvez] put all the mom skits into the songs. I always knew I would end up with something if the album came out.

How did you feel when the album was officially announced?
Still skeptical. When did I stop? Friday at midnight when the album was actually online.

Is it surreal that it's out?
It's such a relief, more than anything. This is one of the rare times I really sat there when the project came out and listened to it beginning to end, and tried to enjoy it as a fan of music. Especially with four years of sitting there wondering if anyone's ever gonna hear this song, or any of these songs. Two: the reaction was good, so that make things even better.

Has this process impacted your overall process at all?
Nah, it was just a bummer more than anything. It didn't stop me from creating music. It really fucked things up with Wayne, and seeing him go through what he went through… That dude never missed a studio session. He's going to the studio every day doing 12 hours of recording. His work ethic is so crazy. I don't even think this is work for him; this is therapy for him, to go to the studio and rap. To finally see this shit out, I'm just super happy for him. He can start to move on.

Is there more music on the way?
There's so much Wayne music! This is really the first release Wayne has had since streaming took over. I think now that they see how easy it is to just put music out and not have to get CDs made… Wayne is really the kind of artist who could drop an album every month if he wanted to. His work ethic hasn't changed from 2006 when he was doing all those mixtape features. I'm interested to see what the future holds after this album cycle is done. I think he's in the studio right now, working on new stuff.

What's the major takeaway from this journey to Tha Carter V?
Fuck, man. I'm gonna say: Never give up. Wait, that's mad corny [laugh]. I'm kinda still shocked. I feel like people reacted really well to the album. I think the fans are super happy and I'm really glad that it's out and people are finally enjoying it. I think everything happens for a reason, either that, or we end up making the best out of what's thrown our way.