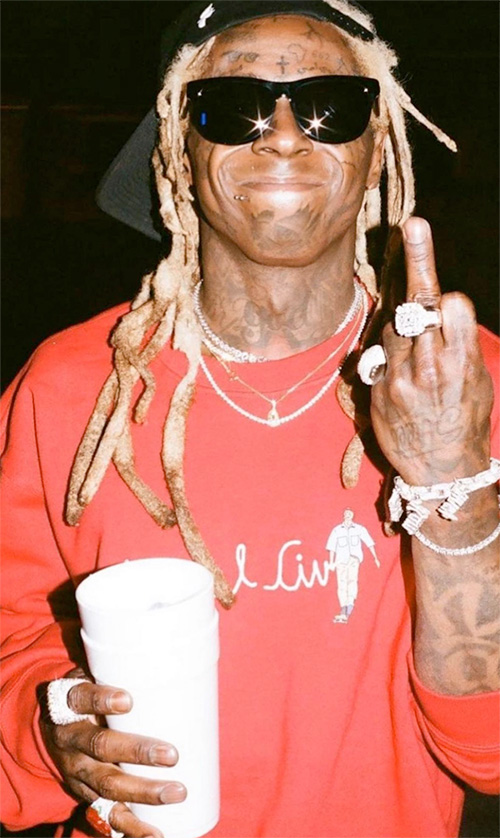 Production coordinator DJ Folk recently participated in a Q&A (question and answer) session with a Lil Wayne Discord server that you can read in full below.
Before the Q&A, Folk actually revealed that Jeezy has 2 unreleased songs with Wayne – one from 2011 that was produced by Drumma Boy and one from the 2014 Like Father, Like Son 2 sessions. He also mentioned producer AJayOnes has 3 more 2014 collaborations with Weezy that were recorded for Tha Carter V including one that was code named "Emergency".
In the interview, DJ Folk discussed the I Am Not A Human Being II sessions, first meeting Tunechi, the "Life Of Mr. Carter" track, if he believes Kanye West "sabotaged" IANAHB2, wanting to get Amy Winehouse featured on "Kidnap Cupid" that was produced by Megaman, sending in a beat for a Tune and Kevin Gates collab that is still unreleased to this day, the Funeral album, his favorite Mr. Carter leak, there being at least 2000 unreleased Lil Wayne records in a vault, and much more!
First shout to Asap Retro without him i wouldnt have slid in here to do this….shout to Danny from lilwaynehq also

Q: Were there beats you gave Wayne for other projects you helped with for production coordination that didnt make it?

A: alot of the leaks that were meant for imnahb 2 …..kidnap cupid , world on my shoulders …cpr ….c5 fuck dat nigga…wayne x jayones have alot of joints in the vault…like damn near albums worth of joints

Q: Which life of mr carter do you like better the original one or the released one

A: i prefer the original …..im happy the record got liberated in the proper way tho…..that was big for my guy Pay Cash and Bruce Almighty they stayed patient and i worked my magic

Q: Can you explain the aura you felt been next to lil wayne aka tunechi aka weezy?

A: we met alot of times over the years first time i met him i was with jeezy in 2006 at the boost mobile show in atlanta…first time i met mack too ….in music circles we kind of just dont caught up in the aura of who we around

Q: Is it true that Kanye "sabotaged" IANAHB2?

A: artists tend to overthink things on the song selection and they have alot of outside forces pulling them in diff directions once they play stuff for people….but i know for a fact b4 kanye heard the album there was a diff playlist than what people got….but thats every wayne album…album song selection is always fluid until the last min

Q: Where did the idea of XXXTentacion & Wayne on a song come from? From C5

A: thats from my boy DJ Papa smirf…he manages Z3n a producer who use to produce from XXX…he had some xxx references …smirf called me im like idk bro they trying to close the album out now….they had Ben Billion co produce and walk the record in….the rest is history

Q: the people need to know…. were there multiple songs recorded with The Lox?

A: that i have no idea honestly

Q: Who was the surprise guest/feature for the alternate version of Gotti?

A: i knew this was gonna come up……theres another version with diff verses the artist who was on it….i cant reveal i would love to but thats not my place to do ……..its only like 5 people who knows so we all gotta hold it down sorry lol

Q: How did the hittas beat come about? Anything and everything you remember about it.

A: so i sent hittas and gotti beats in a 3 pack email dec 31st 2013…..theres another beat in there called djfolk sample i think he did all 3. when he did it him and drake were in the studio together….jayones sent me that beat early 2013 i remember…cause we always go and forth on samples especially for wayne….cause we always know what joints he gonna fuck with heavy

Q: Is there a reason Sheek Louch wasn't on Gotti?

A: i think p and jada was in the studio when wayne hit them about it …..thats all i know on that 1

Q: You've mentioned before that Mike got in contact with you to send a couple beats over. How does that process work? Do you know what the project is at the time or the direction the album is headed?

A: basically wayne cuts songs but if he hears something …he would have mike get the sessions for the beats…so he set it up the way he wants the beat….usually i dont know the only albums i knew what i was sending for was c4 c5

Q: What was your favorite studio session with Wayne that you had?

A: i was suppose to get in with stunna and stunna had me at the studio but never showed so wayne took over his room with twist and wayne at the time didnt know who i was and politely kicked me out lol…..

Q: any info on OG velvet and/or devol?

A: when i sent hittas over i was like this either going on c5 or devol to be honest thats all the info i have on it

Q: Did mike banger and Wayne ever had a dread contest to see who dreads are longer?

A: idk fam lol

Q: Are there any projects you worked on on which your work didn't make the cut?

A: imahb2 and funeral

Q: Did you hear the version of Hittas with Drake's verse?

A: theres a version with drake? news to me

Q: Have you ever got aroused when Wayne was recording a song in the studio on one of yours beats while you were there?

A: LMAO NO

Q: Also is there another version of kidnap cupid? Better mixed down? You had said in a interview you sent wayne 300 beats. How many do you recalled he used ?

A: kidnap cupid was done so long ago….theres a mixed version somewhere i dont have it….but would love to have it for my personal archive i think i have sent wayne 600-700 beats and counting……i think he has full songs to 75 or so……maybe 150 song ideas…i shoot a good percentage with wayne on beats

Q: What was your experience meeting Wayne for the first time??

A: boost mobile show 2006 in passing…..dapped me up i was with jeezy at the time

Q: We're any other songs made with Eminem that didn't see the light of day? There was a rumored Eminem feature on C4 but obviously that didn't happen. I believe it was called fall from grace

A: i have no clue on that feature or rumored song….

Q: How did you feel when Mack chose not to release Life of Mr. Carter with C5??

A: so the biggest misconception is alot of things are Macks fault….Mack fought for life of mr carter ….wayne sometimes over rules everyone on songs….like c5 they narrowed things down to 50-60 songs…..and u had alot of joints get cut off ….So i want everyone to stop blaming Mack …..its not an easy process…trust i a&red 3 albums in the last 5 yrs and its a very tough process

Q: Was Wayne on any of the songs from the still unreleased Billionaire minds 2?

A: he probably was ….it kind of got lost in the sauce as far project goes

Q: Do you actually get to hear the final product of beats you send to wayne or only until leak/release?

A: nah….they usually hit me for info and files from the producer……i usually hear things when u guys hear it …makes the surprise better for me

Q: Do you still work with wayne? if not why?

A: i have been sending wayne beats for 11 yrs…he raps on alot of stuff i send…..sometimes it leaks sometimes i make albums…i wont stop sending i just dont send as much as i use to ….but we will always work as long as im active musically

Q: from my understanding you middle manned the beats a lot of the time. Was there ever a beat that the team requested be held to the side that wasn't and ended up on someone else's project?

A: c4 …..early in mike will 's career…and banger will confirm….mike was starting to catch fire….they hit for a beat i still have the email…and i hit mike…at the time mike was moving on his own….he wanted to talk to waynes management b4 sending the session but they were wrapping up the album with urgency…as a result mike didnt make it

Q: Thoughts on the released version of C5 versus what it could have been with all of the sessions from 2013-2018?

A: the biggest diff was early on the double album concept had some shit we still havent heard to this day….i know when i was sending jayones beat the earlier version b4 the double list had a heavy jayones sound….like they have some fucking incredible records in the cut i hope gets released soon

Q: Do you know if this was an actual tracklist for C4 at one point? or if any of these songs actually exist? (this was put together before she will dropped and before ross' verse leaked or was even known about).
1. Tune This
2. Team Player (Feat. Birdman)
3. Fore Play
4. They Love Me (Feat. Drake & Nicki Minaj)
5. John (If I Die Today) (Feat. Rick Ross)
6. No Competition
7. Holy Grail (History) (Feat. Kanye West)
8. Carter Cash (Feat. Jay-Z)
9. 6 Foot 7 Foot (Feat. Cory Gunz)
10. Play My Game (Feat. Tech N9ne)
11. Anne (Feat. Swizz Beatz)
12. Street Life
13. Hard Talk (Feat. Bon Iver & Game)
14. Fall From Grace (Feat. Eminem)
15. Brain Dead (Feat. Gucci Mane)
16. No Trust
17. Maybe She Will (Feat. Drake & Rick Ross)
18. My Legacy

A: never seen this so i have no clue on this

Q: can we have c4 anniversary edition?

A: ???????

Q: Some C5 sessions songs that you would've liked to appear on Tha Carter V release in 2018?

A: life of mr carter….the joint with flow…..gotti with mystery guest…

Q: are you aware of leaks? and how does it feel when something that you worked on gets leaked

A: it depends because if i know the song was gonna sit on a hard drive ……then im happy when its liberated but if the song leaks b4 a release and fucks up the play then i need a fade

Q: You connected producer Megaman with Wayne for C4, in one interview Megaman mentions Wayne did a song over another beat of his and wanted Amy Winehouse on it, but song was scrapped from the album, did anything ever come of this that you are aware of (if Amy recorded for it, if its finished)?

A: i think it was insecure aka kidnap cupid

Q: What's the fastest Wayne has recorded a hit feature or song you've witnessed? And what was it

A: when i was working for jeezy we sent a song produced by drumma boy at like 930 it was back to us back 11:15 most of the time earliest we get something back. like next morn later the week…but tune went ape shit and send it back quick…fucked up thing we lost that fucking record smh

Q: Probably more of a question for Megaman and Zaleezy, but do you know who the featured artist is on I Don't Need Her/Roses/Kidnap Cupid? It's some guy named Ben but any extra info on the featured artist and the track in general would be cool!

A: Ben Stevenson. and they were gonna get someone bigger heard Timberlake at one time but who knows

Q: Can you leak us any songs?

A: Whaaaa???

Q: What are some top tier wayne songs that didn't make certain albums? Which one was your favorite?

A: fuck that nigga for c5 S/X FROM THE uk is that guy….i really love that song after i heard it….that beat so dark and hard and got the uk bounce to it

Q: Was there ever any songs with Kevin gates and Wayne? Back when gates was signed

A: yeah i gave them a beat for 1 that was lat shit for imnahb2….when gates dipped to atlantic the song got lost in the sauce

Q: Why was Drake left off I'm Single on IANAHB?

A: no clue

Q: Is it true that C4 Wayne's World is one of the greatest songs Wayne has ever done that didn't ever drop?

A: ive heard that b4 but ive never heard the song tho

Q: What do you know about the track Good Poison, that was meant for OG CV?

A: all i know it was suppose to be on c5 back in 2014 but thats about it

Q: Probably should've asked Banger this question but How many songs that Wayne put on mixtapes were taken from unreleased songs?

A: this more of a banger question then me

Q: u have songs rn with wayne gone release ?

A: i dont know i gotta look my offline hard drive of music

Q: Can you tell us more about the songs you sent to Wayne from T Minus recently?

A: t minus sent me this epic pack of beats…like i havent really been listening to beats alot….but t minus sent me this fucking incredible pack i sent wayne some joints lets hope some more magic happens

Q: Who do you personally think is better musically Wayne or Drake?

A: its hard question depending on perspective its like 1a 1b type of question yanno….hard for me to answer

Q: did u get a 5x platinum plaque for C4?

A: nah probably get it end of the year…i think megaman is about to be platinum end of summer…so i want to get both

Q: What's your opinion on FWA?

A: it was good to keep waynes name out there at the time with the legal stuff he was having at the time

Q: What's your opinion on Funeral?

A: honestly i listen to it once….and i was kind of disappointed in it tbh….

Q: is it true Asap_Retro works for lil wayne

A: idk woe

Q: Is it true that Mack decides on the track list? Does Wayne give any output?

A: its more of a few people…tez wayne mack …sometimes josh….wayne usually does what he wants on his lists unless theres a sample clearance or some other politics

Q: Any reason they replaced OG start this off right on final C5 with Mack version?

A: they just updated it …to give it a fresher feel

Q: whats your favorite Lil Wayne leak, album song, feature?

A: any of my songs on leaks…first place winner is my fav song album song probably idk i love alot of the wayne /tminus shit…..feature…this other unreleased joint he did with jeezy that was for jeezys seen it all album called success

Q: is there a snippet for emergency out ?

A: dont know what that is

Q: Have you ever worked with Childish Gambino?

A: lmao no

Q: Any bigger rappers/artists you'd like to see Wayne collab with again/for the first time (e.g. Rihanna, 50 Cent, Childish Gambino)?

A: Rihanna

Q: Can you tell Wayne he needs Rihanna on his first single for IANAHB3 with a hook and verse because her fans starving for music and it will be a big hit?

A: he needs to put some stuff out…..i would love for imahb3 to be some of the vaulted stuff he has sitting over there…

Q: If u could pick 5 eps and Wayne work wit a diff producer for each one what 5 producers would u choose?

A: ep him jayones and street runner would be fye….him x mannie…… him x swiff d (producer from la who is fire) him x detroit producers

Q: How does Wayne feel to aaron Rodger's possibly leaving the packers, also tell him he's the GOAT

A: idk bro i dont fw football like that no more

Q: Brother we need some clarity On that unreleased song cpr I seen you comment under the snip 2 years ago. Just wanted to know if you heard the song in its entirety and what was the actual name of the song any other detail would be much appreciated

A: no clue on the full song i need it…me and cardiak both do….i told cardiak i was gonna get him some shit with wayne…..i know i sent probably 30-40 cardiak beats to tune…i think they can make some more slappers together

Q: Did Wayne make any other songs with Kendrick before Mona Lisa? I know it was recorded originally in 2014 but do they have any other collabs as far as you know?

A: no idea pretty sure they might something else

Q: Whats Stunnas number

A: 281-330-8004 who mike jones

Q: When was Wayne's prime?

A: 05-2012 imo hes still shooting at high clip after….but i think those his MVP Caliber yrs

Q: Which IANAHB songs were OG C4 Sessions

A: majority of them i think

Q: Do you know anything about any Lil Wayne X Mac Miller, other than The Question?

A: no clue

Q: why did Bigga Than Life (Birdman album) never come out? i figure it's 100% scrapped since the title track got placed on the Rich Gang album

A: i dont really know i know the bulk of the album was assisted by me….i know one record click clack ended up on Lep bogus boys now or neva mixtape…..same hook and beat…..bboyz was for bigger than life….bread over bed freestyle was the intro i believe

Q: Do you ever see youreself talking to wayne again and see if yall can drop a small ep ? atleast 5 songs… if so what would be the mentality you would provide wayne with? And have you ever heard of a song called I know better or I told a hoe not to beg?

A: me and wayne have no issues…me and mack talk often just not about music…..ill hit him and be like sent some beats like once a month …i would love to a&r a wayne album ep mixtape….i think we could make some cold shit as far as a project…..

Q: Any idea if Wayne has anymore songs with Wiz Khalifa especially around the era of Living Right?

A: no clue

Q: Any idea if 2Chainz has a scrapped verse for Rich As Fuck?

A: Not that i know of

Q: Do you know what Wayne 2021 will be like? what projects for this year? Collegrove 2, IANAHB 3, YM album, C6, etc?

A: hope we get inahb3 this yr c6 next yr

Q: Is there another version of megaman?

A: naw

Q: Who the fuck is Stevie j

A: put some respect on it (birdman voice)

Q: can we have c4 demos

A: can i have a billion dollars?

Q: Which other beats didnt make the cut on No Ceilings 1? Did Wayne rap over Sexy Bitch?

A: idk this one

Q: Do you have the full version of Side Bitch?

A: i dont

Q: was white girl with jeezy for C5???

A: white girl hmm, whats that?

Q: What was the track like that Wayne did with ajayjones?

A: u got the first 2 gotti and hittas….but the ones in the vault are fucking insane they are light years ahead of those 2…the samples the beats the bars……i know of 3 they got that are insane 2 sampled joints 1 without a sample

Q: where any c4 songs turned into ianahb2 sessions

A: yeah it was a few i know rich is fuck was sent for c4 for sure cause tminus sent me she will beat for jeezy b4 tune got it…..and rich as fuck beat was in that pack

Q: Any songs from FWA from other projects?

A: majority of them were done in sessions for other albums

Q: Do you know anything about the old Wayne x Travis Scott colab that isn't the one we got on CV?

A: i think they did something b4 ….not too sure what happened

Q: How do you feel about Wayne's beat selection now a days?

A: i think with music changing….i think u have to evolve as an artist…..like tune the only artist rap wise who can damn near touch every genre of music…..i think if he ever touches his old bag and we have gotten glimpses like i love his flow and bars on gotti….thats the wayne we need in 2021 his bars had me rewinding shit over and over again

Q: Is Steady Mobbin a C4 Session?

A: NAH that was just random session

Q: What were Third Strike & Quasimodo recorded for?

A: idk

Q: Wayne always said he fucks with The Weeknd. Is there any collab happened between them? Besides I'm Good.

A: im pretty sure we will see something between them….that would be dope

Q: What was the feeling around the camp like when c4 sold 964K first week?

A: i was in monaco on a yacht when the numbers came out i tapped dance my ass down to the casino and put 5k marker on the roulette table…….i moonwalked

Q: Do you know if Wayne's team will ever put out his unreleased songs?

A: i really hope so tune literally has at least 1500-2000 songs in a vault maybe more…..shits crazy

hey guys this was fantastic……..i enjoyed this very much so