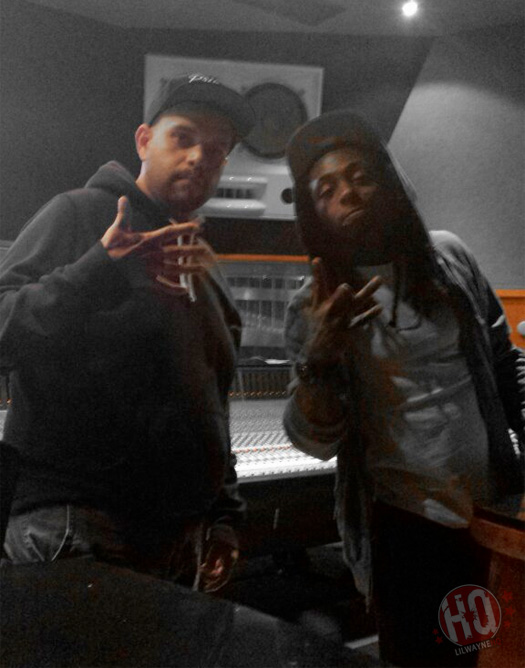 Angel "Onhel" Aponte recently participated in a Q&A (question and answer) session with a Lil Wayne Discord server that you can read in full below.
During their conversation, Onhel discussed trying to get "Like A Man" on streaming platforms, having close to 50 unreleased songs with Wayne in the vault including one where he spits everything in reference to the letter "F", No Ceilings 2, his very first Weezy leak being "Lisa Marie", and recording Sorry 4 The Wait 2.
"First the most memorable moment for me will be. We were doing a song 'Showtime'. He started his vs saying 'ooouuuu it's going down in this bitch'. I put a drop on it before he came back in the room. So I put auto tune on that one line. The first time he EVER had auto tune on his voice. The look he gave me, I thought I was about to get fired for the first time in my life. But the look was more he saw how much money he was about to make lol. The music industry changed from that ONE moment. Granted it was Wayne's talent that everyone followed. But that would have never happened if I didn't do that. So that will forever be a memorable moment."
The New York producer and audio engineer also spoke about the DVLP-produced song "Side Bitch", being in the studio with Tunechi when he first sent out the tweets expressing he was unhappy with Cash Money Records and Birdman back in 2014, being the very first person who put auto-tune on Tune's vocals, and much more!
Q: What were the original plans for No Ceilings 2 if you know them? Since a lot of sessions have leaked with Wayne rapping over original beats instead of his typical beat jacking approach.

Double disc one original one beat jacking? Streaming? And what changed that made them do the approach they did?

A: No ceilings 2 was supposed to be what it was. Like the first with a few originals. I think some things were placed in the folder as potentials. And whomever leaked it, had the folder itself. And thought it was all for NC2

Q: Can we have like a man on streaming?

A: I've been trying for 4 years lol. Wayne is ok w it. It's the label that's being a pain about it. I tried to get it on the re release of FWA

Q: How much unreleased you & Wayne got together in the vault?

A: I honestly don't know the number but has to be close to 50. I started doing records w him in 06. First to get leaked was Lisa Marie

Q: How do you like workin with wayne?

A: Loved it. Besides working with, however you want to look at him, one of the greatest to do it. He's my goat. For me, it was a privilege

Q: Can you name some of Wayne's unreleased collaborations with other artists?

A: I don't speak on things that are not public. I never know what they intend to release and what they want to keep on the hush

Q: In the side bitch video you can seen pressing play on the song, can you tell us more about side bitch?

A: It's a song that I get asked about the most lol. I thoroughly love the love for the song that no one ever heard. It's a dope record. He didn't want to release it. So that's it. Also it was produced by DVLP

Q: What made you switch to being a painter?

A: Same like w wayne and skating. Sometimes you need to switch it up. Find other things you love. As I got older. I felt it was time to try something else. Fell in love w it. It's like a form of meditation for me

Q: When was the last time you talked with wayne and what did you and him talk about?

A: Couple weeks ago. Just to say what up. He replied "where's my painting" lol, that was it.

Q: Did you get to see Wayne make SFTW2 during the Birdman beef? If not did you ever get to see him record music in a upset like state?

A: I recorded the project. I started working w him in 06 and at that point we were doing 20hrs a day. When you spend that much time in a room w someone. You see every mental state and vise versa. He was actually calm and very level headed during sfw2. When wayne shows up to the studio. The outside world doesn't exist

Q: When did you start to notice (if you did notice) Wayne and Birdmans relationship start to sour?

A: I was literally in the studio when he sent out that tweet. Didn't even know. He was acting as if nothing happened. Within those last two hrs of the session. I received like 50 texts and 20 missed calls. When I saw it all. I told him that his Twitter was hacked and showed him. He said nah, that was him lol. Never noticed anything

Q: Why is FWA so damn good?

A: Dude so fucking underrated! I think it was a great creative time for him. A lot of dif producers coming in on it for the love. London roads is my favorite record on there. And I produced 2 on there.

Q: Do you still have Wayne verses that Wayne probably doesn't even remember doing? Has Wayne ever left you in shock in how fast he could create a verse?

A: Wayne doesn't remember half of the shit he says. One time we were at his crib and I spit a whole verse. He thought I came up w some hard shit. Told him that it was his vs hahahaha! The first time I worked with him. He was recording. As he was, I was doing drops (mutes on the beat). When he came out the booth. He said I was the fastest person I worked with. I said ditto lol.

Q: What songs from FWA were from C5 or other album sessions?

A: FWA was it's own project. That C5 folder stood its own folder from what I remember.

Q: Can you give us any info on the song with Bono from Carter 4? Like how it came about

A: I didn't have much to do w C4 outside of producing President Carter and recording "it's good". C4 was all Banger

Q: Would you ever release the demo version of Like a Man, and when did was the song recorded?

A: I don't release anything. Even if a shitty leak comes out. I'm not going to release the better quality. If they want it out, I'll leave it to them

Q: What project were Quasimodo & Third Strike intended for? Why was Dinnertime & Gotta Stunt cut from the C3 tracklist last minute?

A: I don't remember Quasimodo or third strike. I would have to hear them. C3 had a bunch of records cut. Including mine "dinner time". No clue why. Maybe I should start asking some people some questions on their end lol

Q: Plz let Tez or Mack know fans really want side bitch plzzzz

A: Hahaha you all should start a change.org for side bitch

Q: When did Wayne decide to scrap Carter 3: The Rebirth and just change it to the Rebirth album we got, and what made it happen?

A: Rebirth was him trying other stuff. Had nothing to do w C3. During C3 he was experimenting. They were separate projects completely. When wayne works, there's usually a project in mind. But sometimes he would come in and just do whatever he felt like fucking w

Q: Why does Wayne use shitty YouTube remakes for his mixtapes?

A: The last mixtapes we did, the producers sent us the beats

Q: What do you know about the track Good Poison, that was meant for OG CV? Also is this https://youtu.be/OQ1gkl9yics (Time Stamp 0:08-0:1 Good Poison?

A: There was never an intention of an OG album. He just did hundreds of records. What made it, made it. So many gems during that era

Q: Do you know anything about the old Wayne x Travis Scott colab that isn't the one we got on CV?

A: this the first i heard about it

Q: Can you leak every wayne song you have I mean he's not going to release them anyways?

A: Whats your email lol?

Q: Do you know anything about any Lil Wayne X Mac Miller, other than The Question?

A: I don't

Q: Why was the mix up with I'm Single (feat. Drake) never fixed?

A: I didn't know there was a mix up. Drake wrote it and wayne recorded it. Just like in pop. Doesn't take away from eithers creativity

Q: Can you let Wayne know I want him to perform in Greece?

A: Sure

Q: Any idea if Wayne has anymore songs with Wiz Khalifa especially around the era of Living Right?

A: That's the only one I know from that era. Shout to Infamous, Mike Molina, and Nelz for producing that banger

Q: You have a history of working with Jay Z. How did his feature on C3 come about? Do they have any more songs in the stash? Were there other records you did for Carter IV that didnt make the cut?

A: I've worked w Jay a few times through Swizz. I was w Swizz before wayne. I recorded Dig A Hole and a few others. But also did sessions w songs that never came out.

That was G Roberson who got Jay on it. I remember when they sent the Vs. long night lol

We had a song w short dawg that he wanted to put Andre 3k on. But he ended up putting him on the drake record instead. Wonder why…? Lol

Q: Any songs from No ceilings, S4TW or D4 and D5 that didn't make the tracklist?

A: Yeah like 100 records lol. He's recording nonstop.

Q: Was Dinnertime going to be repurposed for I Am Not a Human Being II?

A: Nope i wish tho

Q: Was there a scrapped 2chainz verse for Rich As Fuck?

A: I honestly don't remember. But it's very unlucky for him to scratch a vs from him. They're like real brothers

Q: What made you drop the Mixtape Weezy Turns X project? And do you plan on doing anything similar to that again?

A: So all those records were already out and mixtapes. Wanted to pay homage is all it was

Q: Why was an extended version of Gotta Lotta with an extra Wayne verse sent to radio stations but wasn't ever released officially or even unofficially?

A: No clue, I wasn't part of that one

Q: Do you know if Welcome To The Jungle was ever completed and what project was it originally intended for?

A: I wasn't around for that, looks like Bangers time

Q: What's your favorite unreleased song u heard by Wayne? If u can't reveal title could u reveal what time period it was made

A: There's a record I did w him where he spit everything in reference to "f". It's fucking fantastic no pun intended lol. But I send it to him every few months in hopes he'll use it. I even made a 1 min version for him to post on Ig. No luck haha. Outside of working w him. I'm a fan. So much shit I wish was out

Q: What's some u always wanted to see Wayne do that he hasn't yet in his career?
A: He's done so much. I can't think of anything that I would want except to release every record I did w him lol

Q: have you heard a song with the inxs never tear us apart sample ?

A: I have not

Q: What's your favorite producer x Wayne combos besides u n tune?

A: Infamous, develop and street runner. They all get a different vibe out of him. Also cool and Dre

Q: Would u say u heard more of Wayne's devol project loved spelled backwards or velvet?

A: Velvet. I did a few joints that was supposed to go on there like "in a cage" ft my homie Jojee. Upset about that leak. Loved that one

Q: Is there a mixed & mastered version of Treasure??

A: I'm sure theres a mixed version

Q: You send any beats for Collegrove 2 or T-Wayne 2?

A: I never send stuff for specific projects. I just send records. Whatever he wants to do with it. I could send a bunch of stuff for some love type shit but he might be in a shoot em up vibe lol

Q: What's your opinion on FWA?

A: Underrated

Q: Are there any other songs that were intended for FWA that didn't make the final tracklist?

A: He will always record more than double what's on a project. The ONLY artist I ever heard that only records the songs that make the album is Em. And I can't prove that

Q: Do you remember a song called "The Trap" from 2016 and why they shot a music video for it but never released it?

A: I don't

Q: You produced Tevin for the (sadly) unreleased Velvet album. Any other Velvet tracks you produced for Wayne that haven't leaked yet? And do you know the status of the album or any rumors about it in general?

A: Not sure what has leaked and hasn't. It was the tevin record, the SWV joint and In a Cage all got leaked

Q: Any dope stories u got about getting last minute placements? Or stories about how any songs yaw have released or unreleased (leaked) came about?

A: I found out President Carter made the album when the track listing was leaked. I also found out "in this house" wasn't on the original cv when it came out. Equally as excited for the first as I was furious about the second :laughing:. Part of the game.

Q: Have u heard or sent Wayne any edm beats for his unreleased edm project?

A: I did an edm type record w Leighton meester that he got on as a feature. But that's is

Q: In a cage is such an amazing Wayne song, do you remember anything about it?

A: YUP! My homie Jojee came to my studio. I told her the type of shit wayne was on. She went in the booth and KILLED that shit. I sent it to him. A few hours later he sent me the session. I called Jojee to come back in and she did some stacks on it. He hit me up and loved it.

Q: Was any songs from da other album make FWA? Also how was the feature catalog looking for Wayne back in 2014 for CV n da other album like any big feature songs tht never dropped like for example last year we got a cv song wit Raekwon

A: I think anything we did for fwa got put in that folder. I don't even remember when it comes to features. By the time 2014 came around, I've recorded thousands of wayne records. Hard to remember what came out and didn't.

Q: Can you give us any info on "Money, Cars, Clothes, Hoes"? I believe you produced it since Wayne says "Mr. Angel on the beat". C3 session?Also any other beats you did for c3 other than dinnertime? Anything before c3 other than brown paper bag?

A: Bringing it back haha… Swizz did a remix for 36mafia. So I took his vocal and copped it up. I used that vs more than once. Lol that's also in brown paper bag. I did Lisa Marie and I'm sure there's one or two more that I'm forgetting

Q: Banger told us he hated his Hello beat. Is there any songs out there that you weren't happy with the final product?

A: Finale on we are young money. Idea and concept were there but it just didn't sound right

Q: favorite artist that collabed with wayne on a song you worked on?

A: Jay. That's MJ and Lebron or Kobe. You can place wayne and jay how you please. But I'm from nyc. So it's them two for me. Session wise. Migos was a wild ass fun session (amazing amy). Those dudes are something else. Fun to watch them work

Q: Is there a song you worked on that you really wish made a project?

A: Toooooo many!!! But I'm bias. I want everything I do to come out

Q: Did wayne get a pink "fuck breast cancer" ferrari?

A: Ha not that I'm aware of. But if we get to get the record to come out maybe he will

Q: Is the IANAHB2 leaked song really called "I'm Good"?

A: First time I heard. Jamming

Q: Are there records the Wayne team is holding for a later purpose? (Whatever that may be)

A: He has so many records that he could drop an album every week for a decade. No clue what they're doing w the songs.

Q: Was Post Bail Ballin' intended for C4??

A: Recorded years after

Q: Any advice on becoming a producer? Also how did you meet wayne?

A: I don't have any advice that won't sound basic. If you put the work in, everything else will follow! DVLP is fam. Known him since I was like 9yrs old. He was working on c2 and introduced me to him while I was working w Swizz.

Q: Are there any plans to officially release the many songs that leaked during the Carter 3 sessions? And do you know what songs were originally gonna be on Carter 3 before the leaks?

A: That's so far behind them that it's not even a thought

Q: Other then Gotta Stunt, Dinnertime, Eat You Alive, Staring At The World and the A Milli (Remixes) what other songs were gonna be on Tha Carter 3: Rebirth?

A: That list is wayyyyyy too long to remember. You're talking over a decade ago. I started taking notes in the sessions because we couldn't remember all the songs we recorded the day before. That's how many records he does

Q: what albums was wayne working on 2015?

A: Obviously cv and fwa. We started the idea of devol then and velvet

Q: What can you tell us about Devol? Are there any songs you remember specifically from those sessions?

A: Not really. I remember velvet more

Q: Can you drop some unseen studio footage?

A: I never filmed anything. I'm not one for pictures in the first place. I enjoyed the moments for what they were. Also probably why i don't have a verification badge on IG :joy:. I definitely would never film wayne. I get why people would want it but it's weird to me film another person. We would go to the studio to work

Q: What ever happened to Side Bitch? Was it completed?

A: It was completed. As far as what happened to it…. Nothing lol

Q: was Wayne working on any particular albums/ projects in the 2016-2017 era after No Ceilings 2 and before Dedication 6?

A: That's actually when I retired from engineering and passed the torch to my homie Manny who was assisting me at the time. At that point I was just sending him and would send me the sessions back.

Q: Can you show us notes of songs you wrote down and had to change stuff on during the c5 days

A: They're literally scribble scrabble of whatever we were working on. No specific notes. He would put those in his phone

Q: Who was the biggest artist that you seen Wayne work with that didnt get released? Mikebanger told us Michael Jackson. Is there any other big artists that you seen him work with? Also, does Wayne have any actual songs with The Weeknd besides Im good off dedication 5 where we dont even get a verse from Wayne

A: Hahaha not that I'm aware of. Also. I'm not sure it gets bigger than Michael Jackson. I can't think of anything off the top of my head that was close to that big and no one heard

Q: Do you think the fans will ever get to hear Side Bitch? Do you remember anything about the song Murda for C5 with Flow?

A: I really do hope that y'all get to hear side bitch one day. Only because I get asked once a week about it . I vaguely remember the record w Flow

Q: What is 1 thing you can not live without?

A: Weed and alcohol. I know that's two but ya know what I mean

Q: What is your favorite song you've made with Wayne (released or unreleased)

A: Mona Lisa and it's not even close

Q: do you know when wayne started working on funeral? Was wayne workin on C5 in 2015

A: I believe 2014. To your second question. Wayne was waiting for the lawsuit to clear

Q: Ok….The Tina Turn Up beat….What was the name of the song that Wayne recorded over the beat and was it ever completed?

A: It was completed. Believe the title was Tina needs a tune up. It was done. But until a song is released by him. It's NEVER done. So from a demo stand point. It was done.

Q: do you know which Wayne projects we will receive this year? And do you know who he's been working with recently?

Q: whats one studio session youre always gonna remember with wayne and why?

A: Tough. There's two of them.

First the most memorable moment for me will be. We were doing a song Showtime. He started his vs saying "ooouuuu it's going down in this bitch". I put a drop on it before he came back in the room. So I put auto tune on that one line. The first time he EVER had auto tune on his voice. The look he gave me, I thought I was about to get fired for the first time in my life. But the look was more he saw how much money he was about to make lol. The music industry changed from that ONE moment. Granted it was Wayne's talent that everyone followed. But that would have never happened if I didn't do that. So that will forever be a memorable moment.

2. We were in Atlanta. Tez came in w the amilli beat. He did like 10vs that night lol. We did hello Brooklyn and the remix to duffel bag boy that night.

Q: Did Wayne ever get mad when his music leaked and/or when people say he doesn't have it anymore?

A: He never stressed anything to me. His mood never changed about it. I'm not in his mind but his work ethic is, fuck it. I'll make more dope shit

Q: Were any D5 songs actually early C5 Sessions?

A: Nope. I didn't work on d5 at all and got to listen to it as a fan like the rest of us

Q: How much studio footage of C5 era did scoob capture and do they have plans to release it?

A: I would say the first 25-30% of it. They're the type of people. Whatever they want to release is out

Q: Do you know the name of the song from weezy wednesday episode 11?

A: Don't recall this at all… , buuutttttt I know I did perform at this bad ass bitch birthday party recently. She was crazy, stupid thick!

I just want to say THANK YOU!!!! To every single one of you!!!!!!!! It was a pleasure and honor to do this! I would not have the life I have if it weren't for you! Forever grateful!!!!!!