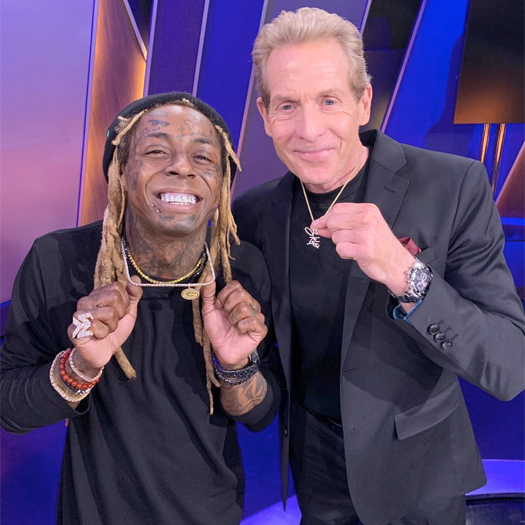 Skip Bayless and Lil Wayne sat down for a joint interview with GQ magazine last month after filming one of their "Undisputed" sports talk show episodes.
The two of them chatted about how the first met, the Masters Tournament in golf, disagreeing with each other, how they would love to have LeBron James and Aaron Rodgers as special guests on "Undisputed", and much more.
Also in their conversation, which you can read in full below, Weezy discussed getting "ESPN" tattooed on his body and falling asleep during it, the last time he had a job, and what it was like leading the Green Bay Packers out before one of their games recently. Skip talked about connecting with Tune's music from Tha Carter III onwards too!
How did you two cross paths initially?

Bayless: You came to [ESPN in] Bristol. Tha Carter III had come out a few months before that. You were touring and had just played in Westchester?

Wayne: Somewhere like that.

Bayless: He drove up to the campus.

Wayne: Slept on the bus!

Bayless: That's about a two-hour ride. They parked fairly near the building where we met in the morning for First Take. That was 7:30ish! Two things came up in that meeting that really raised my eyebrows. I knew your work, but I didn't know you, and I didn't know your depth of sports knowledge! But we were coming up to Steph Curry's draft, and I was a Steph Curry fan at Davidson. You shocked me, in a good way, because you said you would take Steph over Blake Griffin! Everybody at ESPN was head over heels with Blake Griffin because he could jump out of the gym. But [Griffin] stayed at Oklahoma for two years, and the good ones don't stay for two years! He couldn't make a shot from over two feet!

Wayne: He's a pretty good shot maker now.

Bayless: But he never quite lived up to that.

Wayne: He had his moments.

Bayless: But you saw what I was seeing in Steph. He was a game changer. Steph played at Oklahoma that year.

Wayne: [nodding] I remember that game.

Bayless: And Steph outplayed him! That was the first time I said, "Woo, you know your stuff!" The point is—they say I don't suffer fools, I can't talk sports with many people—he was the one person in the world that I would choose to talk sports or life with. It started to take shape that day. It was around the Master's. In the meeting, we were talking about the best days in sports, and I said Master's Sunday. You were like, What the? You weren't into it yet. But when you went for the first time and saw what I saw…

Wayne: Since then, whenever I'm asked that question—favorite sports moment—I always say I've been to the Super Bowl, Stanley Cup Final, performed at national championship games, there's never been an experience that topped the Master's.

Bayless: That all came up in our first pre-show meeting! 7:30 to 8:30 in the morning. Then we had a great time on air, I immediately felt good with him in terms of chemistry. We can go back and forth, trust each other, then you took me to the bus after the show and showed me your little recording studio on the bus. I was just blown away by it.

Wayne: We record while we're moving! You liked the work ethic.

Bayless: Boy did I!

Wayne: I remember you came over to watch some big game…last year? Two years ago? And I had baseball on.

Bayless: You had the Red Sox on! It was August or something like that.

Wayne: He goes, You got baseball on?! I watch every game, unfortunately.

When Skip was on First Take, were you watching every day?

Wayne: Hell yeah!

Bayless: All the way back to Cold Pizza in 2004.

Wayne, you're up early!

Wayne: I'm in the studio at that time. That's my work hours. I need something to have on television to take my mind off things, but also give me ideas. So I always have my sports on.

When did you get the ESPN tattoo?

Wayne: Man, so long ago. I met a tattoo artist from Miami who asked if I wanted to do a suit. I was like, "What is that?" They said, Whole body. I was literally falling asleep during one session. She woke me up and said she needed, like, five more ideas and I could go back to sleep. She looked up at the TV and said, "You watch this all the time." I damn sure do. She said she could put ESPN on me, I said cool, went back to sleep.

Bayless: Unbelievable. I have none. But I love his. They look way better on him than they would on me.

Maybe if the Cowboys pull it out this year, you get a Super Bowl champion tattoo?

Bayless: I would hate to go on the record with that one.

Skip, how much did you know about Wayne's career? Were you listening to his mixtapes?

Bayless: I grew up on '60s rock n' roll.

Wayne: Hell yeah.

Bayless: Beatles, Rolling Stones, hard core rhythm and blues. Then, I got into Nelly with Country Grammar.

Wayne: Big bro.

Bayless: Big bro. I like Biggie over Tupac. I like "Juicy," "Mo Money Mo Problems," but I didn't connect with Wayne's genius work until Carter III. That was before I knew you, but it got me, because it's non-stop, wall-to-wall genius. Just all-time song after all-time song.

Wayne: I appreciate that. That one stands out for a lot of people.

Bayless: "A Milli" and "Lollipop" got me. I couldn't get them out of my brain.

Wayne: That whole album changed me as an artist as well. I wasn't willing to accept no one's ideas or opinions when it came to music. But I ran into this guy named Static Major, who played "Lollipop" for me. I told him I don't do other people's lyrics. But I changed it up and put my own spin on it. The rest is history.

Bayless: And right on the heels of that, he came to Bristol.

Wayne: I used to be there a lot! I've slept on campus!

Skip, is Wayne's music part of your workout playlist? I know you're a big fitness guy.

Bayless: "A Milli" and "Lollipop" definitely get my juices flowing.

Wayne: When I did used to hit the gym, those were the types of song I would listen to as well, and "Got Money."

Bayless: I like "Mr. Carter."

Wayne: I open with that! I have to.

Bayless: It just blows me away. I had not been able to see Wayne in person until Ernestine and I went to a smaller venue here in L.A. last spring. It was 2,000ish people in Koreatown. When he came out for that first number, "Mr. Carter," the power? The aura? The mystique? Something that I have somewhat in common with him, if you're around me off-camera, I'm a little more reserved unless I really know you. So is Wayne. But if you turn that red light on for me?

Wayne: It's on.

Bayless: I'm gonna fire. When it goes on for him, I have never seen a force of nature like him hitting the stage. The place erupts! The energy literally knocked us back like a force field of energy. He came across like he's 1,000 pounds. A larger-than-life dynamo.

Wayne: I started performing when I was five, and it's still one of the things I love to do.

Bayless: You have the performance gene in you, and it's strong. To match the recording genius with the lyrical genius with the performance genius is hard to do.

Wayne: Very difficult.

Bayless: I have not seen anyone better. Quick aside. Back in my Dallas days when I was a columnist, the local magazine there is called D Magazine. They did a big interview with me and asked who I would be if I could be anyone. At that point the Rolling Stones were touring—they're still touring!—but they were sort of the number one touring band. It was the '80s. I said for one night, I'd like to feel what it feels like to be Mick Jagger when he's on stage. For the cover, they shot me as a rock n' roller. They needed a prop so they gave me a guitar and had me jump off a little trampoline so I'm up in the air. Mick Jagger does not play the guitar!

Wayne: [laughing] He doesn't!

Bayless: That's as close as I ever got to being a rock n' roll superstar.

Wayne: I thank God for that gift every day.

Wayne, when you record your own music, you famously don't bring any lyrics into the booth. Do you do the same thing for live television?

Wayne: [sighs] No, I come with notes. I'll get the topics the day before, then later that night something may happen that changes things. So, I've been researching.

Bayless: He preps hard. He's ready.

When was the last time you had a day job?

Wayne: Probably when I used to answer the phones at the Cash Money offices. I did that from [ages] 12 to 15. Hello, you've reached Cash Money Records.

Bayless: Were you by the hour?

Wayne: I didn't do it for no money! I wanted to be around Baby and them.

What have you learned about making live television?

Wayne: It is definitely hard. I already knew how difficult it was, but little on-the-fly things are what I notice, and the way these guys adjust to it is genuine. It's all very strategic. Reminding yourself to stay professional is very difficult. But I love that I'm a part of it now.

Who would be your dream guest on the show?

Bayless: I mean, he was my dream guest. But you know who it'd be? LeBron.

Wayne: That's a good answer. I thought you were going to say either Tom [Brady] or MJ. For me, it'd be the late, great Kobe Bean Bryant. If you want to go now, I'd love to sit down and talk to Mr. Aaron Rodgers.

He's got some time on his hands now!

Wayne: You crazy.

Bayless: I think he'd be afraid. He wants softball questions.

What are some instances where you've really disagreed with each other?

Bayless: Every time! Seriously.

Wayne: I think, on-air, it's always something about the Cowboys. But the main person was Tom Brady. I mentioned that I don't think Tom is the best quarterback.

Bayless: We got into it on that.

Wayne: He thinks Tom is right under God.

Bayless: He was, for a time. He only won seven Super Bowls!

Wayne: It is hard to argue with seven Super Bowls. Joe [Montana] only got four.

Skip, I was told you wake up at 2 in the morning every day. Is that true?

Bayless: Never miss. I jump out of bed at 2:00am, only because I did the show at ESPN for 12 years, and I always got up at 5:00am [eastern] for that. So, I'm technically getting up at the same time. The reason I jump out of bed is because I know back east, they're already rolling. I better get ready for them. Until people bring it up, I don't even second guess it or let it seep into my consciousness. 5:00 is the start of the morning, but 2 am is the dead middle of the night out here. If you let it get a hold of your psyche, it'll eat you up. But I just do it.

Wayne: AKA, he loves it.

Bayless: I do love it. I'm excited about it. In fact, we're sitting on the couch in my dressing room right now. This is just me—I'm addicted to it, in a good way—I need to get on the treadmill for an hour to get the endorphins flowing. I'll watch the late loop of SportsCenter.

Wayne: And because you're out here, once you hit 3:00am, that's when the new ones come on.

Bayless: I catch up on the overnight stuff, so then when I get off the treadmill, I'm ready. I'm steeled for the day. I got it. No matter what happens, I'll be ready for it. I live, like, two minutes from this studio. There's nobody on the streets—I do not drive the speed limit; that's okay, there's nobody there! We put the show together at about 4ish, and then it's just hell on wheels. I take a nap in the afternoon, but Friday night is date night.

Wayne: Exactly.

Bayless: If I can make it to 10pm, that'll be a plus. I fade out. It just gets you. Friday into Saturday morning, I will sleep for 12 straight hours. A lot of times, I don't even wake up to pee, if I may say that. The point is, when I wake up [on Saturdays] I'm back. I'm completely rejuvenated. I used to be a night owl, until I got into this.

Can we talk about the "Skip" necklace you're wearing?

Bayless: It's a gift from this man, and I wear it every Friday without fail. It's my good luck charm. It reminds me of our connection, and now it means even more because we're on every Friday. I would look naked without it.

Wayne: When Snoop came, he hit him with the "Drip Bayless."

Are you still a big Jordans guy, Skip?

Wayne: That's all he ever wears!

Bayless: Every day. People ask me how many I have, I've lost count.

Wayne: However many they've made.

Bayless: It's funny. I've tried to actually play basketball in them—which I still do—they don't work. They weren't made to actually play basketball in.

Wayne: Why do you say that?

Bayless: The 1's, have you ever tried to play basketball in them?

Wayne: Oh the 1's, yeah. The 1's are good to skate in!

Bayless: But if you try to run in them, they have no cushion. It's like you're wearing rocks on your feet. But do I like the look of them? Yeah!

Wayne, what was it like to lead the Packers out of the tunnel?

Wayne: Priceless. Everybody keeps saying, "Sorry, y'all lost." I'm like, Did we? There was a game actually played? I was on cloud nine, man. Coach [Matt LaFleur] was more happy for me. It was his idea. He called me in the middle of the week—he'd seen me bring Colorado out—and was like, "You know you gotta bring us out." Say less!

How are you feeling about this new era for the Packers?

Wayne: I love it, pun intended. [Quarterback Jordan Love] got some moxie. He just needs to know that he's in charge a little more. I was never a Saints fan. The Packers won the Super Bowl in New Orleans. I was a huge Brett Favre fan already, and I think he made the cover of Madden after that. I've been straight Packers since, and I'm a very loyal guy.

How do people react when you tell them that you two are friends?

Wayne: The first thing that people will say is that we seem like we're a lot alike. I get that a whole lot, even from my mom. She'll say, "It look like you and that man talk all damn day!"

Bayless: Allow me to say that the best moments of my life are the occasions when, on a Saturday…

Wayne: We're linking up!

Bayless: The two of us just head out, 30 or 40 minute drive from where we are on the west side of L.A., it'll be 2:00 in the afternoon and we just sit.

Wayne: Usually don't know how long we've been talking.

Bayless: We stayed for four straight hours [once]. We did not eat, we did not drink, we did not use the bathroom.

Wayne: That was good.

Bayless: The first time we went, I was a little concerned for Ernestine because she's not the biggest sports fan. But we don't talk hard core sports, we talk life! She never gets left out of the conversation.

Wayne: Sometimes the conversation revolves around what she's talking about.

Bayless: That is correct. Those are the most entertaining and enlightening times of my current life. It's just fun! It's organic, there's no rundown. We just go.

Wayne: And we learn something, every time. It's like Jimmy V said. We laugh, sometimes we even cry. Both of us are not from here. I don't have friends out here. I stay home a lot. When Skip comes over, that's the most company I'mma have. We got each other out here.

Bayless: Yeah, we got each other. Most people in that circumstance would say let's have lunch, or dinner. We don't do that. To me, when I'm trying to talk to somebody while I'm eating, I have to chew, then I have to stop. There's no flow like this flow. Couch, back porch, stand around in the kitchen, it's just beautiful, the best I've ever had interacting with a human.

Wayne: That's love.