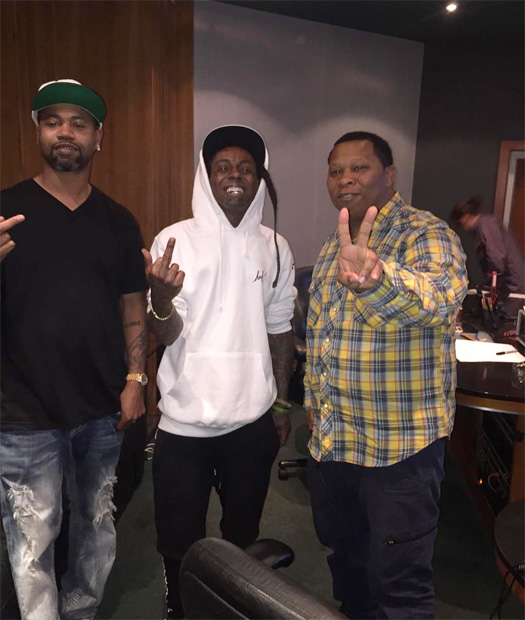 Mannie Fresh recently spoke to Genius over the phone to reveal how his "Hate" collaboration with Lil Wayne, Birdman, and Juvenile came to be, as well as how possible a new Hot Boys album is.
While explaining the "Hate" story, Mannie mentioned that not everything is resolved between Weezy and Baby. However, he told them that they can resolve their problems "behind the curtain, but for now, let's make music for the people."
Fresh also let loose that on the night they all recorded "Hate", they also recorded four other songs "with that old Cash Money sound". Though he went on to say that the hard part is going to be convincing them all to do a whole Hot Boys album!
I was DJing in Miami and asked Juvenile to do the gig with me. I was like, "I'm gonna get a studio in Miami and see what comes out." Hit Factory wasn't available so I hit up this studio literally right down the street. Me and Juve in there cutting the song. I was like, "It'd be cool if we did it like a Hot Boys song." I called Lil Wayne and he was two blocks down the street at Hit Factory. He was like, "Bring the song over!"

I had just the hook and the beat—it needed to sound like what's going on right now and the good old times of Cash Money. I let Juve do what he did for the hook. We felt like, "Damn there are a lot of haters that feel like this isn't gonna happen—me, him, and Wayne would never be in the same room." That's where that part came up.

Me and Wayne did the song back and forth. Wayne goes in first, that first part he did. I took a lot longer, but I didn't write none of that down. I had the engineer hold up while I thought of how I wanted the flow to go, then put me in. To make it work right, you gotta be on the same page, match what he's doing. I've been doing this a long time. I'm not Wayne, but I can give you a couple of verses without having to write stuff down. I can make a song up in my head. That's mostly what I've done with hooks, so that wasn't hard to do at all.

Juve wanted to hear everything we were gonna say—he pretty much wanted to outshine us. So the next day Juve went to the studio and did his part. He was like, "I don't want no delay on my vocals—I don't want it to sound like nothing new." I'm like, "I've been EQing you all my life. I got this."

By sheer coincidence, I wind up bumping into Baby and I was like, "Dude, I would love if you introed this song." He was like, "Send it to me, it's done." I can see how paperwork and foolishness can destroy something. Everything is not resolved with him and Wayne, but I overcame it by saying to them, "We can resolve all that behind the curtain, but for now, let's make music for the people." When it all started coming together, the brotherly love came out. We did the song, then, "I wish you the best, we should do it more often."

The incredible thing is, I probably got like three more songs with Wayne and Juve. When we got in there, Wayne of course was like, "Pull up another track." So I did, and he did that one, and I did the same thing. We probably did five songs that night, songs with that old Cash Money sound. The hard part is convincing them to do the whole [Hot Boys] album.

I talked to Turk the same night I talked to Baby. He was like, "Yeah dude, I've been feeling kinda left out." And I was like, "Well there's an easy way to resolve that." I have verses from B.G.—I'm definitely gonna incorporate that, if I have to make it a hook, or whatever. That's super important. You will hear his voice on some of the songs.

This project that I'm doing now on Mass Appeal isn't really about the Hot Boys or Cash Money—it's about Mannie Fresh. I just wanted to open it up with that to show that we can overcome whatever. Everybody's screaming for it—"We want that good feel music back!" I'm gonna bring it to you.