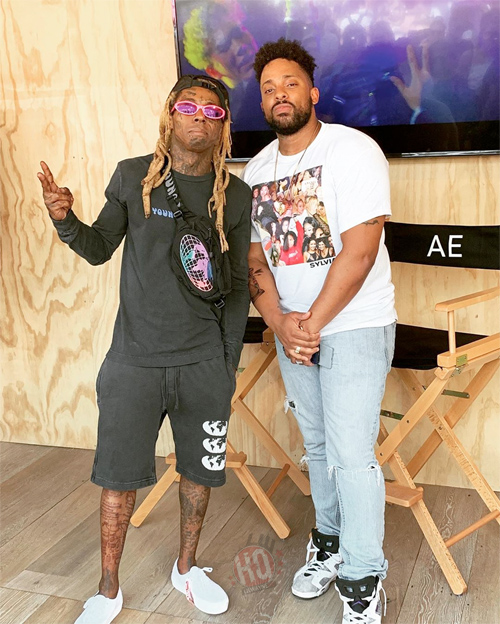 Lil Wayne sat down with Carl Lamarre from Billboard for an interview while promoting his new line with fashion brand American Eagle on the rooftop of New Design High School in New York City on July 15th.
In their conversation, which you can read below, Weezy spoke on his proudest accomplishment as the CEO of Young Money, working with Swizz Beatz, if they will ever record a joint project together, and his Tha Carter album turning 15-years-old last month.
Tunechi also discussed fashion, "everyday people" wearing his merchandise, Tyga's "Lightskin Lil Wayne" tribute music video, why Tyga reminds him of Flo Rida, NBA, NFL, what similarities he see's between himself and Kobe Bryant, the difference in touring with a rock band and touring with rappers, Travis Barker, Drake, and more!
You've been a trendsetter in fashion over the years whether it's been your collaborations with BAPE, your TRUKFIT line and now your collaboration with American Eagle. How have you been able to be a consistent style icon with so many shifts in fashion?
Fortunately, people just like the way I dress. People like what I put on and how I rock it. So it's always been an idea to come out with my own line. Obviously, I was fortunate to do that years ago and for people like American Eagle to recognize that, it's crazy.

It's everyday people who are out here wearing your merchandise. That has to be a special feeling.
Definitely. That's very special. What I mean by that is you can be just watching television and you can be watching something on National Geographic, and somebody can pop up with a TRUKFIT shirt or a Young Money shirt and they'll let you know that that's an everyday [outfit]. It's like seeing somebody back in the day with a Members Only jacket, you know what I mean? Everybody gotta have one.

Young Money once was a small label with you, Curren$y and Mack Maine and eventually blossomed into a music conglomerate with you, Drake and Nicki Minaj leading the way. What is your proudest accomplishment as CEO of Young Money?
I would obviously and honestly say my biggest accomplishment is being able to say that we're still here today. Longevity is always the biggest accomplishment.

Was there a moment you ever doubted yourself during that stretch?
Doubted myself? I'd be a liar to say I'm some kind of superhuman computer and never doubted myself. But I make that sure that whenever I do, it's in a closed room, and I make sure that once I exit that room, that I left it in that room.

You and Swizz cooked up the "Uproar" record last year, and he's one of your closest friends. What makes that bond so unique between you two?
That's Swizz, man. That's the type of guy he is. That's the type of dude he is. I'm sure you can probably have this same conversation about Swizz with a bunch of other people. That's just him, man. That's him. He'll make sure that you're living right and he'll make sure that he can help in any kind of way, because he will. So you have no choice to be the same way him with him. Also, his family is awesome. He's an awesome guy. That's plain and simple.

Because you guys are so close and have proven to have chemistry on "Uproar" and "Pistol on My Side," would you two consider doing a project together at this point in both of your careers?
You know, me and Swizz never ever thought about it. [Laughs.] We never thought about it. That would be crazy. If I come at him with it, he gonna send me 900 beats, so I don't know what I'm gonna do with all that. But yeah — we never thought about that, but it would be easy. It would be easy.

Last month, Tha Carter turned 15 years old. That's teenager right there.
[Laughs.] Yeah, I heard. I remember recording that joint on the bus, the whole album. You can't record on a bus while it's moving. We had to stop, and I remember not caring and [keeping] going.

I know you were happy to see Tyga pay homage to you on "Light Skin Lil Wayne." I loved when he paid homage to "A Milli," when he walked out the trailer.
Man, that was my favorite scene. [Laughs.] I got locked in soon as saw that. I was like, "Oh, he rocking it out." Then, when he started going to other videos, I was like, "Oh, they spent money. This is honorable right here." That was love to me, most definitely right there.

Tyga's growth has to be amazing to you because when he first come out, he went from dropping "Coconut Juice" to being a strong hitmaker.
First of all, when I met him, he told me and I told him, I was like, "You teaching me something." See, we as artists, I always look at, "Oh, I gotta get in this mood for this song. Now I gotta think like this for this song. Like you're showing me that you're staying the same mode, but whatever the subject is, you're still staying tight. So every time I met you, you're putting out a hit, that's why you're over here." We're always going to be putting out hits and we're still here.

You would think because you're a legend at this point that you wouldn't be implementing different things to from other artists in order to get better.
I look at certain things. It ain't about the music. I look at certain things and how he approached things. So the way that he approached the song was every song was supposed to be a single. Like every song is supposed to be a hit. I don't wanna compare, but he reminds me of Flo Rida. Every damn song Flo Rida put out, we may have not heard of it and you may not hear it, but I bet you somebody overseas done heard it. I bet you it's the No. 1 song on somebody's charts. That's why I like Tyga, he knows how to go in there and say, "No. This is song ain't about to be No. 15 on an album." If somebody has 15 songs on the album, then we're about to shoot a video for all 15.

Let's segue into a sports for a bit. I know you're a Lakers fan, but which duo do you think right now as the potential to make the most noise in the league next season.
Like you said, I think everybody knows I'm a Laker fan, so I'm trying to see Anthony [Davis] and LeBron [James].

Speaking of duos, you and Drake are debatably the strongest duo in hip-hop. What makes you two such a strong team in the rap arena.
The versatility, plain and simple. You know, him by himself, he's a group. [Laughs.] He's singing and rapping and all that, so when you add me, I guess whatever I bring to the table, that's just what makes us go.

Going back to being a Lakers fan, I know you and Kobe have a dope relationship and you once released a record dedicated to him. What similarities do you see between you and him?
Motivation. Work, work, work. From what we all know of Kobe, he never stopped. He still out here working and I'm still out here working. And it looks like he approached every single thing he does the same way. So meaning, if today he's going with his daughter to cheerleading practice, he's going to be the biggest cheerleading practicing dad that day. He's going to be the top dude.

Madden 20 just announced four NFL players in DeAndre Hopkins, Arnold Donald, Khalid Mack and Bobby Wagner all receiving 99 overall scores. If you could pick one player to start your franchise with, who would it be and why?
Oh, man. I think I would have to go with Aaron Donald. I'm a defensive guy. I love defense, and if I'm going to go between him — and to me, Khalil Mack — then I'm picking Donald, because he's a little younger and that'd probably be the only reason why.

You've recently started your joint tour with Blink-182. Talk about Travis Barker and what makes him such a special collaborator in the hip-hop world?
Man, Travis, plain and simple, his swag is great. He knows what to do with that. Once he gets behind that drumset, boy, it ain't about nothing else. Music is music. Once you hear that drum, he knows what he's doing. Again, it's his swag, he knows how to relate. He's a cool kid, though.

What's the difference you've noticed in touring with a rock band versus touring with rappers?
I mean, there's a huge difference in crowd energy. Those folks are energerized off of every song. You know, they're there to have fun and that's not to say that when we go to hip-hop shows that we're not there to have fun — but you know, we also fly and we don't wanna get too sweaty, and we don't wanna look too crazy. You know, we don't wanna lose our minds. They don't have none of those restrictions. They wanna look too crazy, they wanna get sweaty and they wanna lose their minds. [Laughs.]