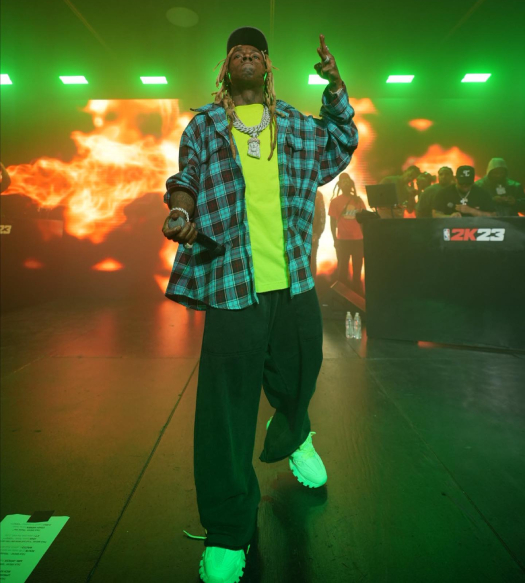 Yesterday for Lil Wayne's birthday (September 27th), the Recording Industry Association of America (RIAA) updated many new Wayne certifications.
Tha Carter III is now certified octuple Platinum, Tha Carter V is now certified double Platinum, and I Am Not A Human Being (which actually turned 12-years-old yesterday) is now certified double Platinum.
"Hustler Musik", "Let It Fly" featuring Travis Scott, "Can't Be Broken", "I'm Single", and "Dedicate" have all also now reached Platinum status. You can check out the full list of Weezy's new plaques for his singles after the jump below!
Albums:
Tha Carter III – 8x Platinum
Tha Carter V – 2x Platinum
I Am Not A Human Being – 2x Platinum
Singles:
"6 Foot, 7 Foot" featuring Cory Gunz – 7x Platinum
"Love Me" featuring Future and Drake – 7x Platinum
"A Milli" – 6x Platinum
"How To Love" – 6x Platinum
"Drop The World" featuring Eminem – 5x Platinum
"Right Above It" featuring Drake – 5x Platinum
"Mirror" featuring Bruno Mars – 4x Platinum
"She Will" featuring Drake – 4x Platinum
"Mrs. Officer" featuring Bobby V and Kidd Kidd – 3x Platinum
"Rich As Fuck" featuring 2 Chainz – 3x Platinum
"Believe Me" featuring Drake – 2x Platinum
"Fireman" – 2x Platinum
"Go DJ" – 2x Platinum
"Mona Lisa" featuring Kendrick Lamar – 2x Platinum
"Can't Be Broken" – 1x Platinum
"Dedicate" – 1x Platinum
"Hustler Musik" – 1x Platinum
"I'm Single" – 1x Platinum
"Let It Fly" featuring Travis Scott – 1x Platinum