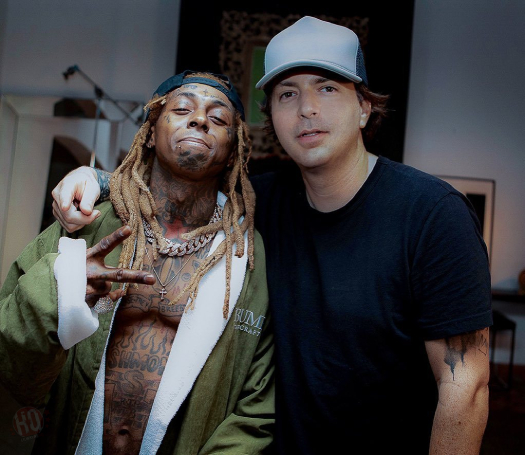 Kevin Rudolf recently participated in a Q&A (question and answer) session with a Lil Wayne Discord server that you can read in full below.
In the interview, Kevin spoke on how Wayne was originally supposed to get on his "In The City" song, how "Spit In Your Face" was due to be a single from Rebirth until it got leaked, being signed to Cash Money Records, his best memory with Tunechi, and what his favorite Tune songs of all time are.
The New York singer and songwriter also revealed he has sent over some music to Lil Wayne for his new project, what his favorite Wayne era is, he has two unreleased rock collaborations with Weezy, what it is like inside a studio session with Mr. Carter, and much more!
Q: How did 'Let It Rock' come about, and how did you get Wayne on the song?
A: Let It Rock came about because Wayne was supposed to get on the song called 'In The City' and for about two months he never did it and then one night Slim came to me and said and said what about Wayne and you on that let it rock song what do you think? I said Slim I just want to get my music out there obviously Wayne on anything would be amazing let's go. Literally six hours later we had the verse so the stars aligned and it was on the radio couple weeks after that.

Q: What's your best and worst memory from being on Cash Money?
A: My worst memory of being on cash money is being at the studio at 2 o'clock in the morning and Baby saying we pulling up and getting there for hours later which would happen pretty much every day lol.

Q: Do you plan on doing more music? What direction will you be taking it in?
A: Yes I've always in making music I produce a lot of stuff for other artists written etc. I just dropped a new single called Gold. Dropping another new one in a couple weeks. I never quit things change industry is what it is, you know the deal.

Q: Did Cash Money influence the sound of the music you commercially released, or did they let you have some creative control of the music? Seems like you and Wayne had some good chemistry on the songs y'all did so I'm just curious.
A: I think being on cash money did influence the music I was making but not so much sonically as you would think. Gave me like a superhuman confidence it was like a family like a team like being in a gang it also made me feel separate from the rest of the music industry even though I was in it. It was like a family even though sometimes a dysfunctional one but those were amazing times especially in the early days.

Q: What made you put the scrapped Rebirth track Spit In Your Face on your album To The Sky?
A: Spit In Your Face wasn't necessarily scrapped it was actually supposed to be a single for Wayne he got leaked from what I understand and they decided not to release it as a single. I thought it was some of his best verses I couldn't believe they were on my beat so of course I'm gonna put it on my album.

Q: Do you have any other rock songs with Wayne?
A: There's two more that I have the sessions for that never came out.

Q: Where there any other scrapped Wayne tracks that you wanted to use for a project of yours?
A: I have a couple that we did together that may be released one day.

Q: Why didn't the music video for "Champions" drop in 2013? Are there any other music videos you have with Wayne that were scrapped? Thanks for putting the one for Champions out by the way.
A: It's a good question about Champions we shot that video which was really fun because pretty much everyone in the world did a cameo in it. Universal in Cash Money never put the video out I don't remember why but I had a copy of it so I dropped it on my YouTube channel couple years ago.

Q: How did your A Million Lights hook came about and do you like that song ?
A: I do like 1 million lights I don't feel the same connection to it because I didn't write that hook and I didn't do that but it was given to me by DJ Khaled kind of pre-made and all I did was replace the vocal but it came out dope.

Q: What's Wayne like in the studio? Do you only talk about music?
A: Wayne just does his thing you give him the beat and he does what he does I have no influence on it nor do I want to it's the same with everyone he's a master what he does you give him the track and that's it.

Q: What is your favorite Wayne song? (In general and that you helped work on)
A: My favorite Wayne's song of all time is probably Let The Beat Build again for personal reasons. My favorite verses are on Spit In Your Face as far as something we did together but like I said let it rock was a magic moment.

Q: How much of an influence did you have with Rebirth's overall sound at the time? Did Wayne ever come to you for any advice or guidance during his recordings for it?
A: I had zero influence on rebirth that I know of people ask me all the time did I influence Wayne to get into rock. I think culture and energy is always in the air maybe he picked up on some things maybe he didn't but that was his own design. Makes me really happy that you guys like the rock side of Wayne.

Q: What's your best memory with Lil Wayne?
A: I have a lot of great memories with Wayne in fact they're all good memories because he's fucking awesome. My favorite was when you showed up to the video Shoulda Let It Rock I was wasted drinking Grey goose trying to loosen myself up and he got there and everyone just relax and have the best time doing videos of it with him What is the most fun he's a genius performer in front of the camera I felt like LeBron just passed me the ball.

Q: How has the music industry changed since you first got signed?
A: Dude the industry has change so incredibly much. TikTok runs game on everything in those offices. I mean everything. I don't think people take a chance on the music itself anymore they're basically buying up artists with preset fan bases. I don't blame them it's logical may not lead to the best music but that's subjective.

Q: Do you have any stories about how the song "I Made It" featuring Wayne and Birdman came about?
A: When I did I Made It Birdman called and said he wanted to do a big cash money's heroes record. With Drake Nicki Wayne Jay Sean and himself and basically everyone on the label so I did the beat and I did the hook. Everyone sent there versus back and then Birdman told me he wanted me to put a verse on also. Then suddenly I heard it was my single and obviously I'm not gonna stop it and it all worked out great.

Q: Can you tell Wayne we need another rock album?
A: I'm glad you guys are fans of that stuff seems like there may be one in the works.

Q: Can you tell Wayne to put Rebirth on vinyl?
A: That would be super dope but it would sound great too.

Q: Realistically, how easy would it be to contact Wayne and or Birdman right now for a collab?
A: My last collab with Wayne was this song called I Will Not Break which featured him which I put out in the middle of 2019. I've never chased any collabs they've always just sort of come about so when the time is right it's right I've sent some stuff over for his next project so we'll see.

Q: Are you still YMCMB or you left?
A: I wasn't on YMCMB I was straight on Cash Money. But I got a funny story for you guys I was the first rock artist on Cash Money and Slim wasn't gonna put me on cash money is going to start a new label for me called Slim Vision. I told him it would be cool as fuck if I was on Cash Money and we left it at that.

Q: What is your favorite album and or era of Wayne?
A: My favorite era of Wayne was the Carter III no question. For a lot of reasons some of them personal just because I was coming out at that time with my first single Wayne was a part of it the energy was high it was magic in the air and my favorite track on that album was Let The Beat Build which is still probably one of my favorite all-time Wayne songs. I don't know if you guys know this but the Carter III was the first album where Wayne stopped doing doubles and not too many adlibs pretty much one vocal all the way through. When I got the verse for let it rock back there was no doubles which was very uncommon at the time but it's very common now.

Q: What music artist inspires you the most?
A: A lot of different music inspires me Led Zeppelin inspires me so does Bob Marley and Sade. When I was starting out I was really influenced heavily by the Timbaland, Neptunes, early Kanye stuff production wise I like all kinds of music though.

Q: What is your favorite rock song off all time? and did you ever see or partake in any satanic rituals or sacrifices?
A: My favorite rock song of all time is running with the Devil by Van Halen. And no I did not take part in North see any satanic rituals lol

Q: Hello Kevin, which guitar is your favorite from your own collection?
A: My favorite guitar once again is my black Les Paul I just brought it out of storage after Playing strides in tallies for a few years but I cleared out the storage unit the Les Paul was there and it felt like being at home again love that guitar.

Q: Having been 14 years since the release of Let It Rock, do you still think that when you arrive you bring the fire?
A: Yes I do think I will bring the fire again I actually feel like I'm just getting started as crazy as that sounds sometimes the perception of the world is not what's going on with the artist themselves some people think it's a one hit wonder thing but I don't see it like that at all life is evolution creativity is evolution and I'm on my path.

Q: Who is the greatest rapper of all time?
A: Lil Wayne and Jay-Z no question.

Q: Do you remember when Novacane was recorded?
A: Yes I do remember Novacane from the Carter IV I actually had much less to do with that record and pretty much anyone I've ever done. I normally write everything and produce everything and I didn't produce that and someone already had the idea for the hook and I just took it and ran with it. Wayne is always very gracious and seems to hop on many of the things I've given him.

Q: What has been the work process for your next album ?
A: And I've gone through a lot of phases creative and life wise I feel tapped in though right now back to my original sound back to the roots feeling clear dropping lot of singles – album soon.

Q: When you write your music, do you like a clear head or do you smoke/and or drink to get a feel in?
A: I don't smoke and I don't drink much especially in the studio but I got to be in a good fucking mood I got a feel like happy. Life has to feel good for me to be creative can't be sad got to keep the energy up be playful have fun.

Q: When first stepping into the music scene, did you envision yourself becoming the rockstar you're known as today? Or were initial plans a bit different?
A: I think it was half dreams have desperation. It was something in me where I said I got to make something happen here mixed with all the knowledge and skills I've been building up working with Timbaland in the studio and having had a record deal in the past being in the studio and lots of other artists.

Q: When a song doesn't "blow up" / become a hit, what is usually the reason for that? Is the artist at fault? Is it an inadequate push from the label? Is it just radios choosing not to play the song? Any insight would be appreciated
A: That's a really good question just like the stars have to align and there has to be some magic behind the song and everything going into it from a marketing perspective all those things not happening is what makes it not a hit also.

Q: Saw you performed recently at a Nets game, how did that come about?
A: The Nets game was crazy just came about a week before I had to throw it together a show in a week. It was funny because first I was only gonna do it with the band then only a DJ and the cheerleaders were supposed to come on with me and then before I knew it I was at soundcheck and I was up there all alone!

Q: What is your favorite song you've ever worked on?
A: What are my favorite songs In The City which is the first song off the title album in the city but of course I have to give it up to Let It Rock because that was a life changer for me.

All right guys I got to go thanks so much for having me hope everyone has a great night if you're interested I talk a lot about this shit on my Instagram TikTok etc. You can follow me Kevin Rudolf or Kevin.Rudolf on TikTok. Much luv