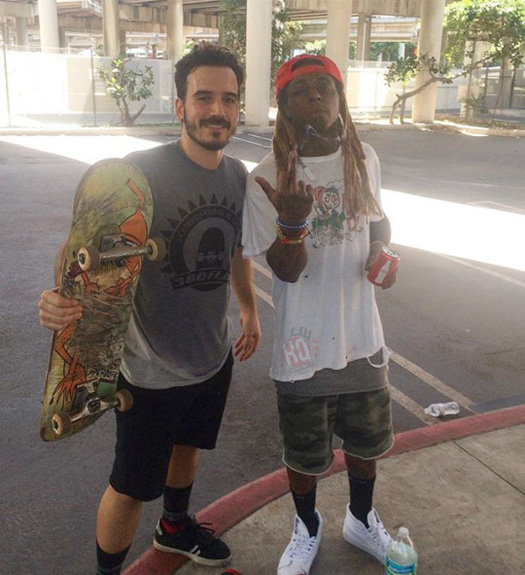 In a hotel suite after his "Gone 'Til November: A Journal of Rikers Island" book signing in New York on Tuesday, Lil Wayne sat down with The New York Times for an interesting interview that you can read below.
During their conversation, Weezy spoke on not worrying about reliving his time in jail as he hasn't read "Gone 'Til November" and he doesn't plan to either, releasing the memoir for us fans as we are being patient for his new music, recording guest features, not knowing the new generation of rappers, and explained why he hasn't been attracted to activism.
Tunechi also talked about the Black Lives Matter movement, what he cares about, Donald Trump, his upcoming Tha Carter V album, being in the studio a lot, his recording process, fellow music artists coming to his support after his retirement tweets, and his situation with Cash Money Records!
With this book, were you worried about revisiting a difficult time?
I haven't read it, and I don't plan on reading it. I'm not one of those people who revisit things. I don't remember [expletive]. I could meet the president and forget it. Of course I thought it was because I smoke too much. But somebody told me: "The reason why you don't remember things is that it's not the same for you as it is everybody else. Because you are it."

You write in the introduction that the book is for fans to "have something from me while they continue to be ever so amazing and patient."
Plain and simple, because they're not getting anything from me, unfortunately. They're not getting a damn thing from Wayne other than a tweet here or there.

You've done plenty of guest verses.
I do that all the time. I've been doing features since they named them features.

Two that stick out are the Chance song "No Problem" and Solange's "Mad." Those are personal in a way that you haven't been in some time. Are you in a different mind-set given the career turmoil?
It's just the song. If you send me a song about football, then I'm gonna go hard about football. It's also about the artist.

Is there something about working with younger musicians who are pushing boundaries?
I would say so. It's different. These people are turning the clock right now. They are the trendsetters of tomorrow, and I actually pay attention to what they send me. If [my manager] Tez sends me a song and says, 'I need you to do this verse for whoever,' I knock it out in that one night and send it right back. When I get the Solange or Chance song, I'm actually riding in my car, banging that. When I put my verse on it, I'm telling my engineer, "Let me get a copy." The other ones, I'm just sending back to Tez.

Are there rappers in the new school that are motivating you? Are you keeping up with Yachty, Uzi Vert, 21 Savage, Kodak?
I swear to God I didn't know you were saying people's names just now, so that should probably answer that question. I just do my own thing.

After being in prison, someone like T.I. made fighting for criminal justice reform part of his life. You've said Black Lives Matter was a wave that passed you by. Why haven't you been attracted to activism?
I believe there's a bunch of different types of artists and musicians. To even notice what's going out there — I'm trying to make these words stop popping up in my head, I'm trying to make them rhyme. I've got all kind of color lives mattering up in here — green, all kinds of stuff mattering. I'm trying to make sense of what's on in this world up in here [points to head].

In prison, you got a letter from a pastor who asked you to rap about God. You consider your influence and say, "I would have straight killers in the church every Sunday." But ultimately you decide that's not you.
Not at all. I was on a sports show recently, and I was asked a question like that about black lives or whatever. When we got off the air, [the host] Shannon Sharpe said: "I really want to commend you for answering like that, because you didn't make something up just to make yourself one of us. And to make yourself a victim." I'm not that. And honestly, I don't care. I care what's going on with me and my kids and my world and my mom and who's going to pay this next bill. That's what matters to me.

In prison, you watched a lot of reality TV — "American Idol," "Celebrity Apprentice." Do you have any words for Donald Trump?
[Laughs] Who's that?

Is "Tha Carter V" an album that's finished, or is it constantly evolving as the months and years go by?
It's done, sitting and wrapped as is. I just listened to it for the first time in months the other day. I had forgotten every single word on it, because I work every day. I popped it in, and I was like, it's still so much better than everything I've ever heard. Not what's going on right now — everything I've ever heard.

You've always been a creature of the studio. When the music isn't coming out, are you still in there as much?
Probably more. I'm a positive thinker, so I'm still looking forward to the day that it does come out. Plus, I am musician to the heart. I love to get better every day.

Has your recording process changed in this stage of your career?
Not at all. Put the beat on, I'mma smoke one and bob my head and be ready in a few minutes.

When other artists came out in support after your retirement tweets, did that make up for how low you were feeling?
I'd be a liar to say it didn't. People always say, "How could not expect it?" But when I saw people giving a damn about what I'm going through, that made me think and obviously uplifted me. Sometimes what you're going through takes you far away from what the reality is. It takes someone to remind you: Look this way and remember what's over here. I never have bad days; I have bad moments.

Do you see any light at the end of the tunnel with the label situation?
I do. I don't have to even look. I'm gonna make sure that there's light. If there's a wall at the end of the tunnel, I'm gonna shoot that [expletive] down. And there's gonna be light behind that wall.