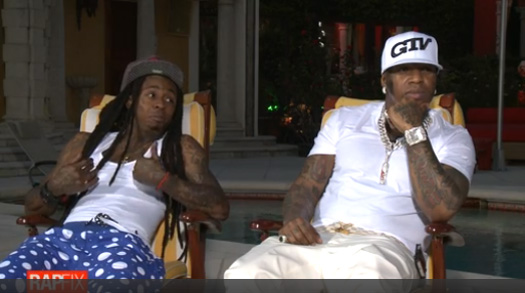 For the latest episode of MTV's "RapFix" show, Sway Calloway chats to Lil Wayne, Birdman, DJ Khaled, Mack Maine, Lil Chuckee, and T.Rone about life and their upcoming projects.
Weezy F Baby discussed his health, his role in Rich Gang, confirms that he will be opening more skate parks, and that he still plans on releasing his Devol album in the future. He also announced that he will be recording a song with Rick Ross tonight for his Mastermind album.
Baby discussed Rich Gang, what he hopes to accomplish with it, Wayne's decision to retire, why he always rubs his hands, if he would ever be open to do a hand lotion endorsement deal, the Trick Daddy situation, Rick Ross' lyrics on "U.O.E.N.O.", and if Game is signed to Cash Money Records or not. The #1 Stunna also announces that his Bigga Than Life album will drop in September, himself, Tune and Drake will be dropping a Big Tymers album in the future but without Mannie Fresh, and that his collaboration album with Weezy called Like Father, Like Son II: Tha Last MOB is still being worked on.
YMCMB's DJ Khaled chats about President Obama's entrance to "All I Do Is Win", Mack Maine chats about how he balance business and music, and T.Rone chats about his "Hello" single and if he considers himself a singer or rapper. Before the show ends, T.Rone, Lil Chuckee and Jae Millz freestyle for the camera.
You can watch the full interview after the jump below.