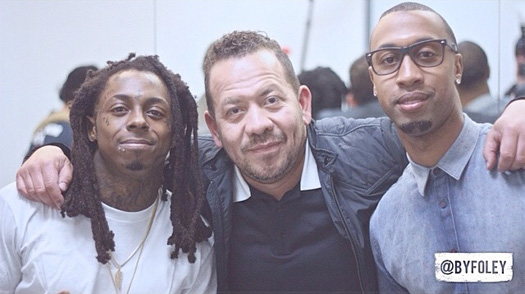 Lil Wayne's best friend and manager, Cortez Bryant, recently sat down with Elliott Wilson and Brian "B.Dot" Miller for a brilliant interview on episode 79 of their "Rap Radar" podcast.
Tez Poe gave away plenty of unknown information about Weezy, what happened with the release of Tha Carter V, the situation with the Cash Money lawsuit, relationships with Birdman and Slim, and so much more.
You can listen to the full 85-minute conversation, watch excerpts of it, and see notes of what Cortez talks about all after the jump below. Enjoy!
Some of the many things Cortez Bryant spoke on:
• Wayne's "Gone 'Til November: A Journal of Rikers Island book.
• Being surprised Wayne had a job in prison.
• What the tipping point was for Wayne to tweet he was fed up with Cash Money.
• The lawsuit with Cash Money and not being paid by them.
• His personal relationships with Birdman and Ronald "Slim" Williams.
• What happened with Tha Carter V after they planned to drop it when "Believe Me" came out.
• Originally planning to release C5 with Google as a free stream before streaming became popular but Cash Money wouldn't let it happen.
• Why the record label are releasing new albums but not C5.
• Confirms C5 is done and is "incredible music".
• Jay Z keeping Wayne's FWA album on his streaming service TIDAL even after he got cease and desist letters.
• Wayne tweeting he wants to retire.
• Tells some good stories about Drake, Nicki Minaj and Tyga including when they first signed to Young Money and how he started an argument with them all over "Truffle Butter".
• Picking every single one of Wayne's singles.
• The DJ Empire leaking a lot of songs recorded for Tha Carter III.
• Discusses Wayne's earlier albums and the feature/remix run Wayne went on.
• His thoughts on Wayne skating.