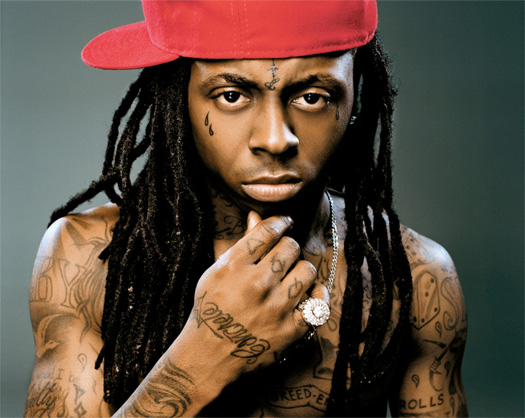 For the tenth anniversary of Tha Carter III on June 10th, Billboard asked a few of the people involved with the classic Lil Wayne album to speak all about it.
Producers Bangladesh, Play-N-Skillz, Dre from Cool & Dre, and David Banner, as well as singer Bobby V discussed how the C3 songs came together and what the album's legacy is looking like.
You can check out everything what they all had to say below. My favorite story has to be Banner revealing how he originally created "La La" for the film Shrek, but Wayne was like: "Fuck Shrek! I want that!"
Bangladesh, producer of "A Milli":
I didn't really like "A Milli" at first, honestly. It didn't have a formal structure or a hook, and at the time I was used to songs having hooks. I felt like that was going to hinder its potential. "A Milli" was like when you're anticipating something happening, and then it doesn't happen. I was disappointed, not because it was terrible, but it wasn't what I imagined it to be.

I sent Wayne the beat, because he and I weren't working in the same room. And I'm glad, because I probably would've given my opinion and things would've changed. I don't think he knew what he actually had. He originally wanted to use the beat for an interlude with Cory Gunz, Tyga and Hurricane Chris. And even when changed his mind and did the song solo, I don't think his team knew what they had. I think we were both on the same page as far as not knowing the potential of the record.

The first person who told me how great this song was, was Busta Rhymes. He's a hip-hop legend and told me it brought hip-hop back. Those were strong words, and I didn't know if I wanted to accept that. I grew up on hip-hop, and for this one record to bring something back? It was a lot of responsibility. But I'm glad to have a classic with Lil Wayne. All the work he put in, the way he worked up anticipation for the album — it made the album in classic.

Juan "Play" Salinas of Play-N-Skillz, producers of "Got Money":
All of our hit songs were not supposed to be hits. Every time we go in the studio and say, "Let's write a hit song," it never works. I believe fate is the most powerful thing, and "Got Money" is a prime example. The original beat was from a session in New York, and one of the assistant engineers working there — he was a new intern — accidentally kicked over the plug and disconnected the MP3 we were working on. So we lost the original version of "Got Money," but Skillz, who played the music on it, was like, "I remember the track, I'll come in first thing tomorrow and re-do it." And sure enough, he remade the track to a T! I played it for Pitbull in Miami, and he jumped up and down like, "This song is a hit! I'm going to put T-Pain on it and make it a single."

But TVT Records at the time didn't allow Pitbull to put out new music, so we started shopping the song. N.O.R.E., Fat Joe, Plies and Slim Thug all cut the record, but nobody jumped to put it out. Then we get a call from T-Pain's manager about six weeks before Tha Carter III is about to come out. Somehow the song had gotten back into T-Pain's hands, and he played it for Lil Wayne, who wanted to cut it. What a blessing that was, because not only did it end up being a single, but radio played it all summer.

"Got Money" introduced the melodic rap style that is so popular now. If you listen to new rappers like Lil Uzi Vert and Trippie Redd, I wouldn't say they are copying "Got Money," but they are definitely inspired by it. To have a song that inspired this generation is really big.

Andre "Dre" Lyon of Cool & Dre, producers of "Phone Home":
We met Lil Wayne in Miami shortly after Hurricane Katrina hit, when the Cash Money crew relocated to Miami. A few years before, Wayne had a mixtape where he rapped over a record we did for Fat Joe called "So Much More." He actually said our name on that record, and we were like, "Oh shit!!" He knew who we were! So when he moved to Miami, he was recording at the Hit Factory studio, and once we bumped into each other, we showed love and started getting to the music.

We've been in the fortunate position of witnessing his worth ethic. Wayne lives and sleeps in the studio, so we were always giving him music. Right before he did Tha Carter III, he was working on Da Drought 3 mixtape and did the "Show Me What You Got" freestyle. On that particular record, he said: "We are not the same, I am a martian." So Cool and I went back to the studio and had this idea like, "Wayne is an alien. He's not from this world, so we should give him a crazy record.'" It took us about two days to get the song right. I remember we had Tales From the Darkside and Twilight Zone playing on the TV so we could capture that feel. We did the piano intro with one of our keyboard players who's super classically trained — it sounded like a fucking orchestra, for real. After I laid down the "Phone Home" hook, I went upstairs in the Hit Factory to give it to Wayne like, "This is some other shit."

Tha Carter III came out when we were in L.A. working on The Game's album. There were so many great records on it, like "Tie My Hands" and "Got Money," so when our record came on, I was like "Yo, I hope people like this." It was so different from everything else. But when he went on tour to support the album, "Phone Home" was the first record that Wayne performed, and it got the biggest reaction. When we went to a show, everyone in the audience went bananas singing "Phone Home."

It opened the door for me and Cool to present more ideas to him. That's why Tha Carter III is so important to us, besides it being a tremendous album. Wayne accepting music from us was unbelievable, because he's one of the greatest artists of our generation, period. It's not even about rap. Just his word play alone is genius. And we loved [Wayne's former group] Hot Boys in Miami — they reminded us a lot of how we were living growing up. We forget that this guy was 14 or 15 years old when he really came out on the scene. We always hear about child performers who phase out by age 20, but this guy just kept going and going. I can't wait to hear his new music — I feel Weezy Season coming.

Bobby V, featured vocalist on "Mrs. Officer":
I'll never forget the day: I was sitting on my balcony when Wayne happened to call me out the blue and told me I should come through to the studio. I knew "Mrs. Officer" was going to be big because Lil Wayne is very consistent at making hits. For this particular record, we did about three or four songs, and all of them were hits, but "Mrs. Officer" was the one he chose to go on the album. I knew in my mind that, if they dropped it as a single, it was going to be a hit record. I remember one day riding in the car and hearing so many people were playing "Mrs. Officer" in their car. That's when I knew it was going to be a fourth single. They weren't trying to release it as a single, it just happened organically. We didn't shoot the video until the song hit No. 5 on the Hot R&B/Hip-Hop Songs chart.

When I wrote that "wee ooh wee ooh wee" hook, I wasn't even thinking about a police car. I wrote that about two years before I recorded with Wayne, but the original song wasn't so hot, so I took the hook and used it here. It was really genius of Wayne to turn it into a song about a lady cop. Most songs are about being in love or being hurt, or rappers talking about their ice and jewelry. Now it's a classic record, and it's kind of a great Halloween song as well — the "wee ooh wee ooh" part is so catchy, a lot of ladies around Halloween dress up as lady cops.

"Mrs. Officer" definitely helped inspire more collaborations between rappers and R&B singers. Rappers weren't singing like they are now — they don't really need us too much. [Laughs] This before everybody started using AutoTune. After that, Lil Wayne opened the door for more singing rappers. I really respect Wayne, because he took singing lessons and he played instruments. He's really into the art of music, and I respect artists who want to perfect their craft. Seeing him take his art to another level definitely inspired others. I know he's a lot of rappers' favorite rapper, no question.

David Banner, producer of "La La" and "Pussy Monster":
There's a wonderful story about the creation of "La La." I was actually auditioning music for Shrek 3 and made that beat for the movie. They were trying to get producers to come together for it, and one of my agents had a plug. This is when I started doing music for commercials and video games. When Wayne and I were in the studio, he heard the beat and was like, "Fuck Shrek! I want that!" [Laughs] And I gave it to him! Wayne was one of the first people that I produced for who didn't mind pushing the envelope.

Wayne would get a beat and disappear for like eight months, and then he'd re-appear with this amazing music, so a lot of the time I would just give Wayne beats. I usually don't like doing that with artists, because I'm a producer and I like to be in the studio and have input. But with Wayne, I was like "Bro, go!" I've always trusted his level of artistry. With southern producers, artists are not always as loyal to us. Back in the day you knew that if Jay-Z had an album, Just Blaze would be on it and Kanye West would be around somewhere. If you heard a Snoop Dogg song, Dr. Dre was probably gonna be on it. That didn't necessarily happen with asouthern producers. I'll never forget when Wayne said, "Banner, you may not have a beat on every Wayne album, but I'll always give you an opportunity to fight for your spot."

Lil Wayne wanted to be the best rapper in the world, and he said he wanted to take that crown. He wanted it all from everybody, and I applaud that. During that time, rap records started fluttering a little bit, but Wayne came back and gave the a boost that everybody needed.