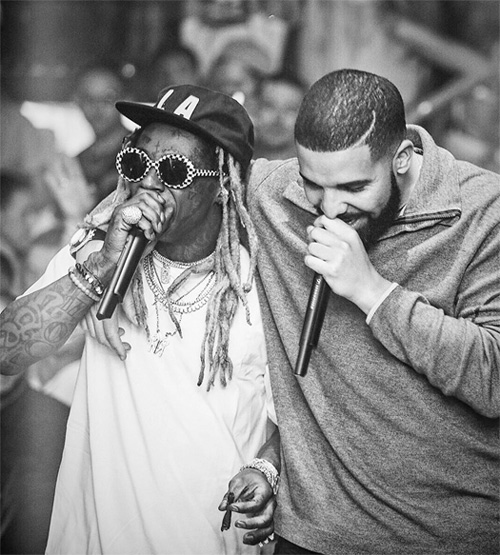 For a surprise on Christmas Day, RapRadar and TIDAL released a brand new 2-hour interview with Drake that took place at his amazing new home in Toronto, Canada.
At the start of their conversation, Drizzy revealed that his goal at first was to be as important as his "mentor" Lil Wayne and that he does not think anyone in music before or after will ever have the same work ethic as what Wayne has.
After talking about Tunechi's "most insane work ethic", the 6 God then recalled witnessing Tune record 4 – 5 classics in one night and seeing Kobe Bryant walk in on the tour bus during his very first meeting with Weezy to get an early release of Tha Carter III on an iPod.
Later on in the interview, Drake mentioned Lil Wayne will always be one of his favorite music artists, how a lot of things changed when he went to jail in 2010, how Wayne doesn't listen to no other artists when he is in album mode, and confirmed he is not signed to Young Money any more.
You can check out Drizzy Drake's full conversation with Elliott Wilson and B. Dot in the video below, which also includes him speaking on Kanye West, Pusha T, Meek Mill, Serena Williams, Rihanna, Jennifer Lopez, Tyler The Creator, The Weeknd, Nicki Minaj, PARTYNEXTDOOR, Young Thug, and much more!
"I think when I first started out, I just wanted to be as important as Lil Wayne. Because I felt like nobody was ever going to be as big as Lil Wayne during 'Lollipop' times, 'Tha Carter III' times. You know I just never seen rap be that, it was such a bright flash ball, I just never seen it look so massive and so big.

Remember I'm on tour with the guy, so I'm at his shows, I'm watching everything. By the way I don't think that anybody ever in music, from now and before and the future, I don't know if there will ever be anybody that will work harder than that guy. So that was a big thing that I paid attention to as well, he has the most insane work ethic.

There was nothing like Wayne, I used to watch Wayne cut like 4 or 5 classics in one night, joints that would just go on to be mind-blowing. He would get 4 verses off and 2 months, 3 months later those songs would come out, I can't believe these songs are like 'Make It Rain'.

I think initially my goal was to be a protégé that didn't flop. I just wanted to be somebody that was remotely as important as my mentor. From there I think a lot of things changed when Wayne went to jail.

My current situation? Well, I'll always be involved with YMCMB imprint. But I'm just signed direct to Universal. That situation was a lot of mess that needed to be cleaned up over the years."