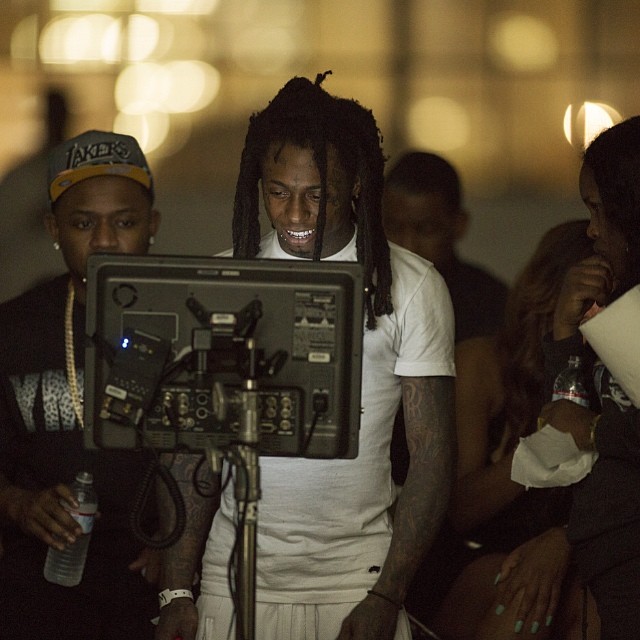 Mack Maine recently chopped it up with Complex to share some details about Lil Wayne's brand new album, Funeral, which you can read in full below.
During their interview, Mack confirmed that Weezy was more involved with this project, they have already shot a music video for "Mama Mia" that is being directed by Mike Ho, there was a feature from DaBaby that didn't make Funeral because of a clearance issue, and there was even a collaboration with Young Thug that was left off the album because Thug wanted to record fresh vocals.
The Young Money President also revealed why Funeral was a few hours late with its release, how he picked the tracklist for the project, how their relationship with XXXTentacion's family developed, why Tunechi first thought 21 Savage was a group, his vision for YM this decade, who is currently on the record label, Nicki Minaj's upcoming album, and much more!
What's the most important thing you want people to know about the creation of Funeral?
One of the most important things about it is Wayne. He definitely was more involved in this project, if you compare it to Tha Carter V, [which was completed] at the last second. It was a lot more on me with Tha Carter V. Funeral, he was a lot more involved. We just shot the video to "Mama Mia," and he wrote the whole treatment himself. Mike Ho is directing it, but Wayne wrote the whole treatment. This was really him and his vision, and what he wanted to give to fans on this album. It was a lot of my ideas on Tha Carter V. Of course it was still him, but we collaborated on Tha Carter V a lot. It was more like me and him. He says it in a few interviews. Like with Elliott [Wilson] when he did the CRWN interview, he's like, "That was Mack, that was Mack." On this one, I could say a lot of that was Wayne.

It's interesting you say Wayne was more involved on Funeral because he's called you his "ear to the world" in recent interviews and credited with helping to shape this project. What would you say was your actual role this time?
We still went back and forth. It's funny. Here's a wild story that I could tell you. I don't know if you realize that the album came out late, but it was supposed to drop at midnight, and it dropped at 3:00 a.m. PST. What happened was, it's always a lot of songs. This might have been a list of 60 songs that he actually picked from hundreds of songs. You got to think, we put Tha Carter V out in late September of 2018, and we dropped Funeral this year, 2020. Wayne isn't the typical artist that goes in just when it's time to record for an album. He's in the studio every night. So imagine how many songs were accumulated within that period. He narrowed it down from a hundred-something songs to around 60. Let's just say 60, because it might've been like 50s. Then I narrowed that down to 24. Then it was something that happened on one of the mixes, and he didn't like something that happened with one of the mixes.

I had sent him a message saying, "All right, you take it from 24 now to 19 or 20." And he must've fallen asleep or taken a nap after whatever happened with the mix. This time around, I didn't want to be the one to be like, "Nah, this, that." I text him like, "Yo, it's not even in sequence or nothing, I just need you to narrow it down first and then I'll sequence it." I got everybody calling me like, "Yo, go by his house. We need it today." I'm like, "I'm not going to wake that man up. He gonna get up and he gon let me know. We gon figure it out." We got to work with what we got. I'm not about to turn this in without him narrowing it down. This is his project. I want to make sure that he's good with it.

When he woke up, he was like, "Yo, I thought that was the list you sent me." I'm like, oh shit. So, I had to go sequence it, and it wound up being a perfect mistake, because it's the number 24, the perfect number due to the tragedy that happened with Kobe. So I just kept the 24 and made sure that we sequenced it. That was my role, and of course I let him know certain things about this, that, and the third. And he always let me know who he wants a collab with, or sometimes I let them know, yo, this person might sound good on here. We basically yin and yang and we bounce ideas off each other, but this album was a lot more him.

Wayne has credited you for helping with the feature selection process. How does that process work?
It's always between me and him. He'll call me like, "I got this joint that such-and-such should be on," or "Yo, I got this joint. When you hear it, let me know who you think should be on there." On this album, we had two joints that didn't make it that were just monsters. We had one with DaBaby, but we had some clearance issues. They should still be collabing soon, whether it's on Wayne or DaBaby's next album. But that was dope. DaBaby always gives Wayne his props in different interviews, saying how he influenced him coming up. And Wayne actually fucks with his flow too. So that was organic. And we had one with Thug. It's a beast. Thug wanted to do something fresh because he did his vocals in 2017, so he felt like his vocals was a little too old. Wayne does the same thing. Sometimes somebody comes with an old song and Wayne be like, "Yo, let me re-record that, or let me do a new verse." Actually, all the artists in three years, do mature and grow. Your voice might sound different, your flow might be different. But that joint, it's still a monster.

Will it ever come out?
Hopefully one day we could figure it out. I'll figure it out, holler at Thug and his people, and figure out a way that it could still be heard. It's a monster. And that's usually how it goes. That's the feature selection. It's not like we're like, such-and-such got to be on this album. We don't do nothing like that. Once we see what we have, we figure out how can we fine tune and who we can add. Who could actually be on the same part of the matrix that he's in? That's the important thing. Some people could get on a song and just mess it up. Takeoff went crazy on there. Twist went crazy on his verse. Everybody that was on a song, they held their weight.

You said you went from hundreds of songs to 60 songs and then 24. How does that process work?
On this one, he sent the songs back, put asterisks by the joints that had to go on it. But that was still more than 24. That's still not narrowed all the way down. We'll go back and forth. I'll be like, "I know this demographic of your fan base is going to like that." He has a certain demographic that'll like "Bastard (Satan's Kid)." He has a certain demographic that'll like "Never Mind." The "Mahogany," "Funeral," "Mama Mia," and "I Do It," I know some of them are going to be almost for his whole fan base. But then some of them, they like when he gets dark. Some of his fans like when he gets introspective. Then you got some joints where he goes in there and he's spitting, and you could be like, that's for the day one fans, they gon' like that.

Putting the album together, I like to look at it like putting soup together, or gumbo. You look at soup, there's different components to it. You got the base, you got the root, you got the vegetables. You might be the type that puts meat in your soup. It's gumbo. You've got different components to the album that come together and make a complete album. Whereas a lot of artists that I hear today, they have the same tempo type tracks with the same flow for 12 tracks. And they have a fan base for that. But you have Wayne, and his audience is so diverse at his shows, and the reason is because he has different flavors in his albums, instead of serving just one particular demographic. That's the way I approach albums.

I might be giving away too much game right now, but I encourage artists that I know to go and catch different vibes in different cities. If you record in the same studio every night, in the same city, that might only inspire one or two sounds. Go to L.A., come to Miami, go to an island, go somewhere where it's cold. I remember Drake going back at one point to where he first started at, in a setting that wasn't luxury, that wasn't the top of the line studio. He made sure he had the right equipment, but the carpet might smell a little in there or something that makes you hungry again. You got to go in different environments to create different sounds. If not, you'll have 16 tracks that all sound the same.

With Wayne's albums, do you prioritize a certain demographic?
Creatively, it's up to him and what space he's in. If you even look at artists that paint or draw, it can be where you're at in life at that period. Which is why, on Tha Carter V, it was a little more introspective because he was coming from a space where, in five years, he went through a lot. I knew people wanted to hear the story. If you go to "Let It All Work Out," where he touched on that topic about what happened when he was younger with the gun, that was his mom's first time hearing what happened with that.

I heard Chance [The Rapper] had some situation with his fan base with his last album, because it was something that was geared towards what he had going on in his love life. But that's where that artist was at, at that particular time. I try to see what he brings creatively, and we figured it out. You might need to fine tune that or you might be missing this on the album. It's all about the timing. Like I said, Wayne goes into the studio every night. By him doing that, he's not going to be the same in June that he was in January. Maybe he'll tap into a different creative space, maybe he got something else going on in his life. So you try to bring it all together to make it make sense, and hopefully it resonates with each demographic.

What would you say is your favorite song on the album?
It's going to be tough to pick certain joints. One of my favorite joints always is "Mahogany." The reason why I put it second is because I wanted it to start the album after "Funeral." I'm like, they need to hear him going bananas. And "Mama Mia," too. It's just bars on both, and that's why I like them back to back. It worked because I saw Ebro tweet when the album first came out. He was like, "He already talking." I was like, ooh, that's exactly what I was trying to do, make sure that we just boom, boom, hit them with something right out the gate. And then Mannie Fresh… There's probably people who don't know that Mannie did "Mahogany" and "Piano Trap." That's not typical Mannie sounds, so it show that he's diverse too. And add "Sights & Silencers" because I'm a hopeless romantic.

Did you have any particular process as far as which producers you worked with?
No. With Wayne, I don't know the last time a producer actually has been in the studio him when he records the song. Basically, it's myself and a few of my partners. We just get a bunch of beats, and send them to him. Like he said on that Khaled joint back in the day, "Feed me rappers or feed me beats." You just got to feed him, and let him do him. That's kind of how it goes. With Murda, he text me in the middle of the night. I was sleeping, I heard my phone bing, and he was like, "Holy shit." And I'm like, what? You straight? I'm thinking something happened. And he was like, "Bro, I don't know what you did, but this track is crazy." He sent it to me, I sat up and wow, it was [crazy]. I sent that over to Wayne, and Wayne loved it. He killed it. That's how "Line Em Up" came about.

Lil Wayne was on XXXTentacion's album, and now X has a posthumous verse on Funeral. How did that relationship develop?
Yeah, he spoke on it before in interviews. It's crazy because the way that came about with the "Don't Cry" joint on Tha V, somebody sent it to me, and I listened to the hook. I was on a plane. I probably wasn't in my right mind or something at the time, and I was like, it's cool. It didn't catch me at first when I heard it. Then I flew to New Orleans and did an interview with Wayne's mom to kind of sprinkle a few snippets, or maybe have an interlude for a song. It's crazy because I sent her the questions the night before, and she had her answers already ready. I threw in the last question, which wasn't scripted, and that became the intro. So I flew back home, and I'll never forget, I was sitting with Gudda, and I played it for him. I'm like this'll probably be the intro. Then I said, just out of the blue, that I got a joint from XXX that they sent me, and it was cool, but it ain't really catch me. Right after we had listened to what was supposed to be the intro, we listened to this joint, and I looked at him, and literally all the hair stood up on my arm. I got chills, goosebumps. I couldn't even talk. I'm like, man, if that joint comes on after [the intro], we got something special.

I had to go explain to Wayne everything about what [XXXTentacion] had done, and what he meant to the culture. Because Wayne, he hadn't got wind of him yet. Then he went and did his own research. He was like, he's a star. Wayne's good at seeing that. Then we met his mom, and she's like family now. We talk a lot. I always have respect for the youngin. I met him a few times, and he had a lot of respect for us. There's a picture with him and his mom with a YMCMB shirt on. He really had a lot of love for Wayne. He was somebody. I put people on Wayne's radar. I try to put the up-and-coming rappers on his radar when I can, when it's not forced. X was somebody that I wanted him to meet one day. That unfortunate tragedy happened, but he definitely loved his music. His relationship with his mom reminded him of Wayne's relationship with his mom, so there was a lot of similarities there.

During his Drink Champs interview, Wayne mentioned that he is not aware of what's going on in rap right now. For instance, he thought 21 Savage was a group at first. Do you think him not paying attention benefits him?
I look at it like, first of all, it's him. I wouldn't say it's a gift or a curse. I'll say it has a lot of pros to it, and a few minor cons when it happens like that. But he's in his own world, Wayne's world. He told me when we were younger one time, if he listened to somebody too much, he'll find himself mimicking and sounding like them, which makes sense. It's how he stays in his own lane with his own style. Today, I hear a lot of people saying that a lot of the artists all sound alike. Maybe that's why. I don't like to critique anybody else's craft, but I hear a lot of the fans say that they're all sounding alike. So maybe they should follow what he got going on and stop bumping these other people so much. Maybe tap into it, but not every day, listening to everybody else.

Before Wayne gets ready for a show, he's bumping Anita Baker. He's in his own lane, his own world, and it works. But like I said, I try to [show him] new artists in the club, or when I hear a song come on in the club, and I know it's a beast. For instance, when he first came home from jail, I was listening to that Ace Hood joint, "Same old shit, just a different day." You remember that joint? "Hustle Hard." I was already listening to that. As soon as Wayne came home, I said they got this joint you got to hear. He heard it, and the next thing you know he's on a remix. That's how, "LIV on Sunday and King of Diamonds Monday," happened on that joint. That's how I try to keep him on, letting him know who's who. But now, he loves the Revolt channel. He'll have it on sometimes at the skate park on mute, and he could see who's who. He'll see the names, but it'd be on mute.

And by the way, when he said that the other day, I know my little brother like a book. When he said that, it made more sense to me that he thought 21 Savage was a group because I know he probably know that there's a 21 Pilots, and that is a group. He might've known one of 21 Savage's songs. I'm not good with names either. I don't know if it's the era we're from, the '80s babies, but I'm not good with names. I've had women that I've dated before for three years, and I couldn't even introduce you to them by name. I'm not good with names. I know songs.

You and Wayne have obviously been partners, family for a very long time now. How would you describe your relationship as it is today?
Of course it's stronger. Pray to God it just continues to get stronger. We always was rocking out. If you saw Mack, you saw Wayne. But I have a lot more to do on the business side now. Back then, it was more like I would still be on the music side with him, which I still am. I was also more into being the president of the label, and being with all the other artists, and making sure all that was straight. But now, I'm responsible for a lot with his career and with the management side. But as far as our relationship, though, that's my bro.

What is your vision for Young Money in the new decade?
Right now, my vision is to revamp, rebuild, and get everything moving again. Within those five years, not only did his career stall, but Young Money was stalled as far as with the newer artists coming along and getting out. They all stayed down. So you got to make sure they get their proper shot, and get highlighted. And we really believe in our new artists. Drake and Nicki, they held it down during that time, for sure. Nicki, she's coming back out with music. "Yikes" went bananas, topping the charts, just now finishing at number one. So Young Money, we solidified our place in history, but we're not satisfied. We want to keep it going. This year, you'll definitely see a lot of new acts coming out. You'll still hear a lot more from Wayne. You won't have to wait like a year and some change after Tha Carter V.

Who are some of the other artists, besides Wayne and Nicki, who we should be checking for?
My whole roster. Anybody that you hear us co-sign, they should be on your radar. But Gudda Gudda, he's definitely about to get his shot. We got Euro from Providence. I just had him out at the NBA All-Star with me. He was sitting courtside, so he's psyched about that. We got Jay Jones from the same neighborhood myself and Wayne's from. His dad was in the group back in the day, Boot Camp Clicc with Mystikal. His dad J-Dawg, shout out to him, his son is Jay Jones. He's from Hollygrove. He a monster. Cory Gunz still on our label. And you heard Twist talking bananas on the "Ball Hard" joint on Funeral. We got HoodyBaby. I always feel like I'm leaving some out. We got Vice Versa, they're a new group from New Orleans. And Reginae Carter. But I'm looking to sign a few new acts, so it's going to be crazy this year. We just been moving a lot. [Wayne is] back outside. He really wanted to get back out here and make his presence felt. He's having fun, enjoying life. That's the most important thing at this stage in life and in your career, to still enjoy and love what you're doing, and still finish number one. I saw somewhere, Wayne's had a number one in four decades. It reminds me kind of like Vince Carter, he played in four decades, the 90s, the 2000s, 2010s, and 2020s. That's crazy.

You mentioned "Yikes" with Nicki. Is there an update on her album?
Nicki's recording. That ain't no secret. She in the studio, working.

Is there a timeline or any details about what to expect?
Oh no, it's not a timeline. Whenever she is ready.

Young Money APAA sports agency, and you've signed a lot of athletes. How would you describe what you guys are doing with that right now?
The sports agency, it's doing wonderful. We should have some first-rounders this year. We've had a few first-rounders already. We just started not too long ago, but we have a great roster of players. It's like one big family. We had six players that were in the Super Bowl. So just to have that is just amazing. And we're looking to expand. Of course, we'd love to get into baseball. We have some basketball players, but we want to strengthen it. I pray one day we have a few first-rounders or something. And soccer, I would love to be in every sport. Until then, we gon' focus on who we have and what we have, and try to maximize that for now.

How do you go about this recruiting process?
We have some actual recruiters, people that actually go out and set up everything. Then I'll dip in once I know it's real, and we have some meetings. Or I get on a phone, or however I got to make it happen. Then when I know it's real, I get Wayne involved to make sure he let them know that he's there to support whatever he has to. It's a process, but that's what we prayed for. So you can't complain that you're here. It could be worse. I could still be back in a little one-bedroom apartment back in my hood, wishing that I could have these opportunities that I have. I got to get to it while I can. My son, his feet growing every day.

Are there any misconceptions people have about Young Money in 2020?
I hope there aren't any misconceptions of what Young Money is at this time. First of all, that's his label. It's Young Money Republic now. That's the situation. Wayne's an artist on his own label also. We have new artists, but it's not just a label. It's a family. It's a lifestyle. We're definitely going to get it back to where people see that. We went off family vibes. If you remember the "Every Girl" and "Bed Rock" videos, we were a big family. And we're still a family. It's just we got to put it back out there in the world, to show him this what it is. And now it's expanded. Wayne got Bumbu rum. We got GKUA. We're in the cannabis business now. We have the sports agency, and that's growing and progressing. It's a team. We're looking to get Young Money Films started. Just expanding his business portfolio, especially at the age that we're at. Also humanitarian work will be big this year. We're definitely tapping into schools and trying to implement certain business programs in schools and community work. It's not just music.