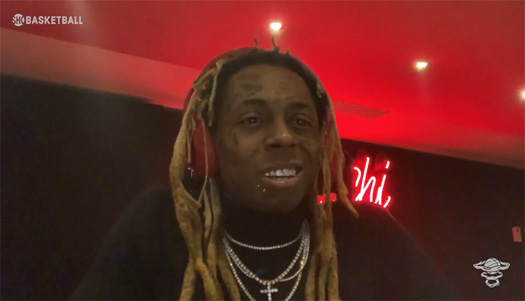 For episode 24 of Matt Barnes and Stephen Jackson's "All The Smoke" podcast, they had Lil Wayne as the special guest and chopped it up with him for around 25-minutes. At the start of the video, Stack called Wayne the "best rapper of all time" and his "favorite rapper" while towards the end, Matt mentioned he named one of his sons "Carter" after Tha Carter III album.
During their conversation, which you can watch below, Weezy spoke on how his family are currently doing with this coronavirus lockdown, how he has "been self-quarantining for years", his mother Cita and brother Semaj being in New Orleans where the virus is "really bad" at the moment, N.O. legend 5th Ward Weebie possibly passing away from this virus, and maybe recording a theme song for "All The Smoke".
Tunechi also revealed he is hitting the studio up everyday while in lockdown, has an unreleased song with a bar saying "ballin' like Stack Jack", his sports knowledge comes from his grandma Mercedes Carter, he used to play American football back in the day, how Kobe Bryant made an impact on him, his current favorite NBA players, he is currently listening to Lil Baby, XXXTentacion and Young Dolph, and wanting to do a live concert from home with 5-6 unreleased songs!