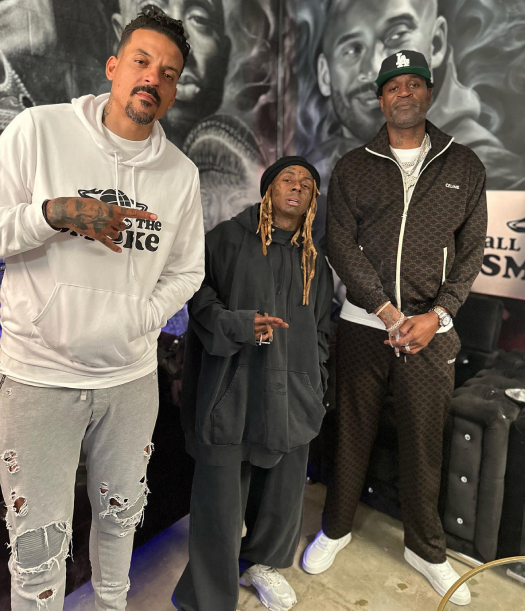 We first saw a preview last month when Lil Wayne shared his thoughts about the Ja Morant situation, and now the full 1-hour episode (186) of Wayne chopping it up with Stephen Jackson and Matt Barnes on their "All The Smoke" podcast has arrived.
In this interview, Weezy talked about what a day in his life is like, if Luka Doncic is still "a ho", his favorite basketball players to watch at the moment, why LeBron James is his NBA G.O.A.T., Anita Baker being an influence, getting money at a young age, his lighter flick trademark at the start of most of his verses, when he wants to hear his own music and when he does not, longevity, and only listening to himself.
At the start of their conversation, Tunechi stopped just to say goodnight to his son Kameron Carter on the phone and show him a Nipsey Hussle portrait on the wall. He then confirmed a solo project is in the works, as well as a new Young Money compilation before going on to disclose what he thinks Tha Carter album did for his career.
Also in their interview, Tune spoke about "Mixtape Weezy", the features he records, Tha Carter III album (which turned 15-years-old yesterday), receiving 3 Grammy Awards for that project, not eating fast food, wanting to first learn how to skateboard, which five guests he would like to have dinner with dead or alive, acting, Kanye West, Drake, Nicki Minaj, Eminem, Rick Ross, Bun B, Michael Jordan, Kobe Bryant, Chris Paul, and wanting his no. 1 bar to be remembered by as the "Weezy F Baby and the F is for…".
Lil Wayne even shared a message for anyone struggling with mental health, revealed what he soaked up from Juvenile and B.G., explained what it was like working with Jay Z on "Mr. Carter", recalled visiting Deion Sanders in Colorado, mentioned he wants to help get Britney Spears on the next episode, and much more!